Family Adventure Holidays in Mauritius: Tailor-made for your tribe
Looking for a family holiday fun-filled with adventures? Relax your shoulders, we got your back!
Travel memories created with our loved ones are often the ones we cherish the most. Those travel memories will be cherished over the years to come and if planned well, the experiences shared during the travel will imprint our heart in the most magnificent ways.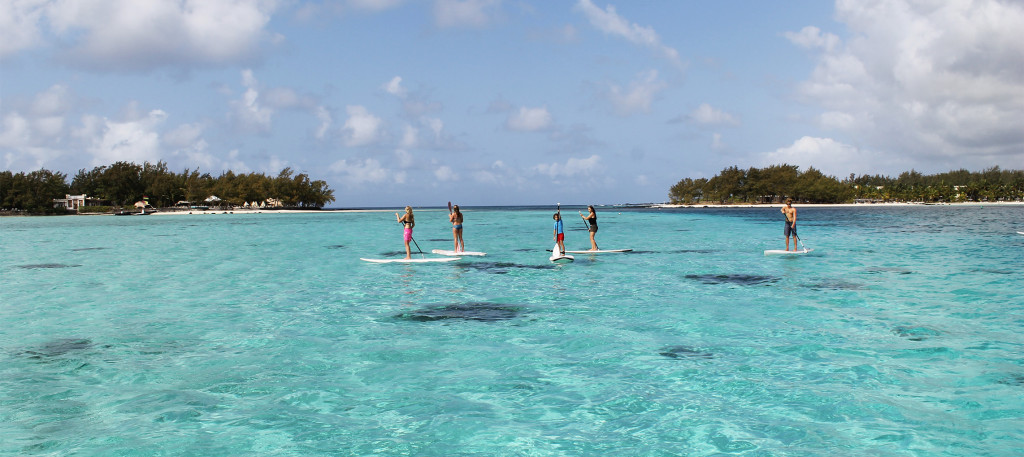 However let's be honest, easing in this new decade was no piece of cake. From the ravaging effects of climate change on destinations across the world to the global pandemic putting each businesses and our lives on pause, it was indeed an arduous beginning of the year. It also marked something essential that would influence how we do travel. Today more than ever, it is crucial to explore the destinations we travel in a responsible and conscious way. More importantly, educating our children who will thrive to become the global citizens of tomorrow.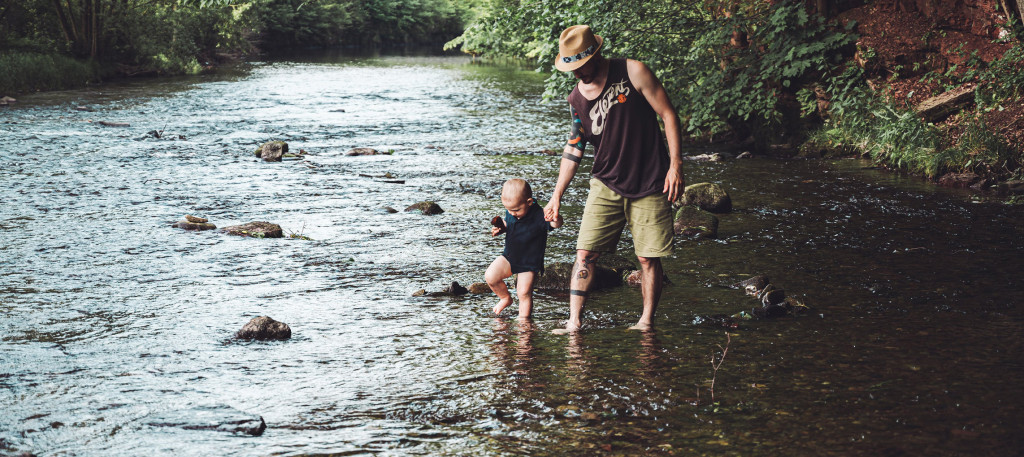 Let's dive in handpicked Mauritius Conscious experiences that are tailored for your tribe, and that also helps preserve the beauty of Mauritius through family adventure holidays
Exploring Wildlife
Whether you or your kids are amateurs of the wild, Mauritius has an array of activities to suit any kind of adventurous souls! The island is home to rich geological wonders thanks to it's volcanic origin and within those breathtaking landscapes  lies a rich flora and fauna that can be discovered in a way that preserves its beauty for generations to come.
Ask our trip designer about the lava tubes & caves exploration!

Hop on your very own fat bike and ride deep into nature with our local guides to explore those beautiful grounds, such as the Domain of Wolmar where more than 5,000 Java deers roam freely in their natural habitat. If you are lucky enough, you will encounter wild boars while our guide will share the history of the estate.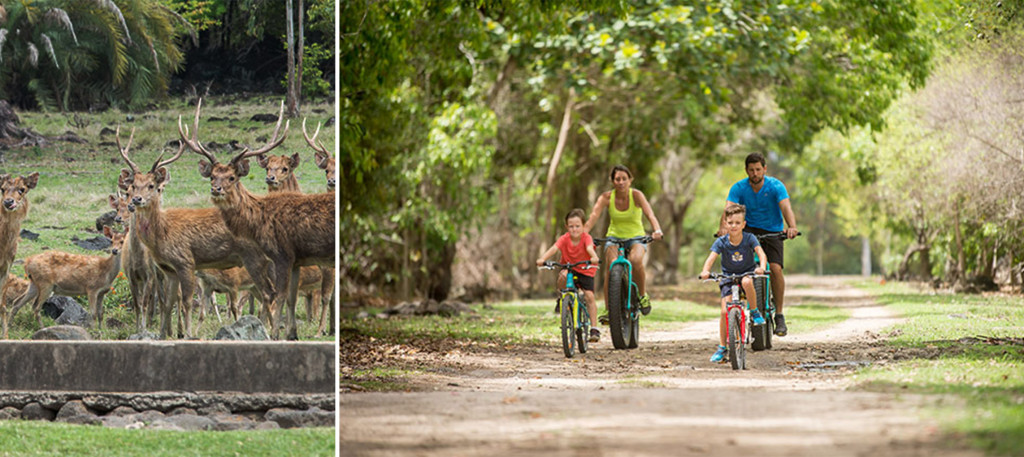 Have you ever dreamed of surfing within the trees like Tarzan? Well, with this family adventure holiday, you can get closer to achieving this childhood dream by embarking in the enigmatic Ebony forest.
The team and volunteers of Ebony Forest rescues the endangered plant and animal species by positively contributing to the rehabilitation of the environment. One of the most charming attractions is the raised walkway across the ancient forest, where you will venture through a variety of endemic trees before unveiling a spectacular view of the west coast.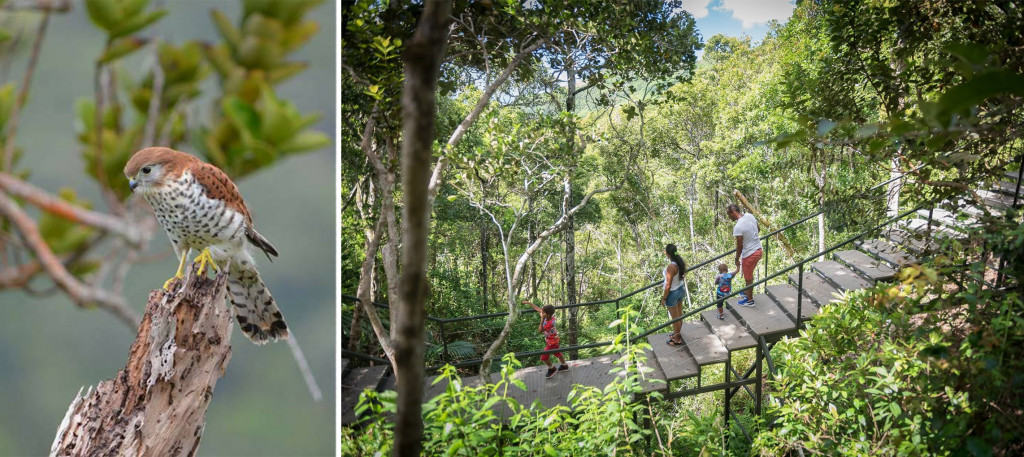 If you fancy a hike, they also have a trail that would lead you to the summits where you will enjoy the views of several iconic peaks of the island such as Le Morne Brabant or Pieter Both.
Paddle off-the-beaten paths
Family adventure holidays in Mauritius won't be idyllic if you don't explore those turquoise lagoons – but we added a twist to that exploration! Head to the remote islands and venture across the mangroves through clear crystalline waters with a guided kayak safari tour! Paddle with your family and treat yourself to a well-deserved snorkeling session where you will get to enjoy marine life in all it's beauty.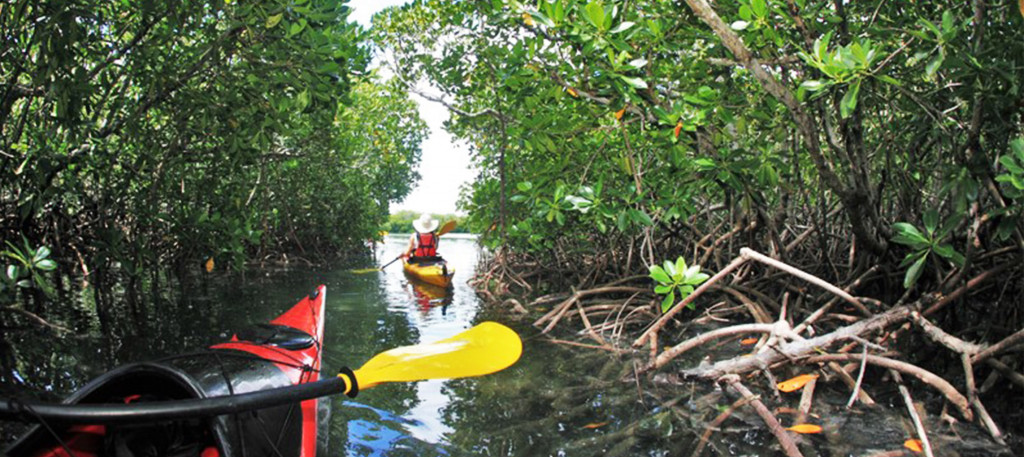 This unique tour doesn't end here! Set foot on Amber island right from your kayak and explore as a true Indiana Jones the historical ruins which have been conserved since 1750. The excursion will also unravel your islander spirit as you will get to discover stunning beach spots ideal to relax, enjoy some vitamin sea and snack on some local treats  prepared by your local guide!
Make your own Rhum while the kids learn about Permaculture
Wild nature, open air and a memorable sense of togetherness are ideal for family adventure holidays. Trust on the generosity of our locals and their savoir-faire to unearth the secrets of Mauritius! An adventure to be added in your family travel list is going back to the roots with Gael. This is the story of how a local turned his surroundings into a food forest of 1 hectare and how he is promoting a more sustainable way of living by creating resilient systems within nature. Permaculture in all its glory.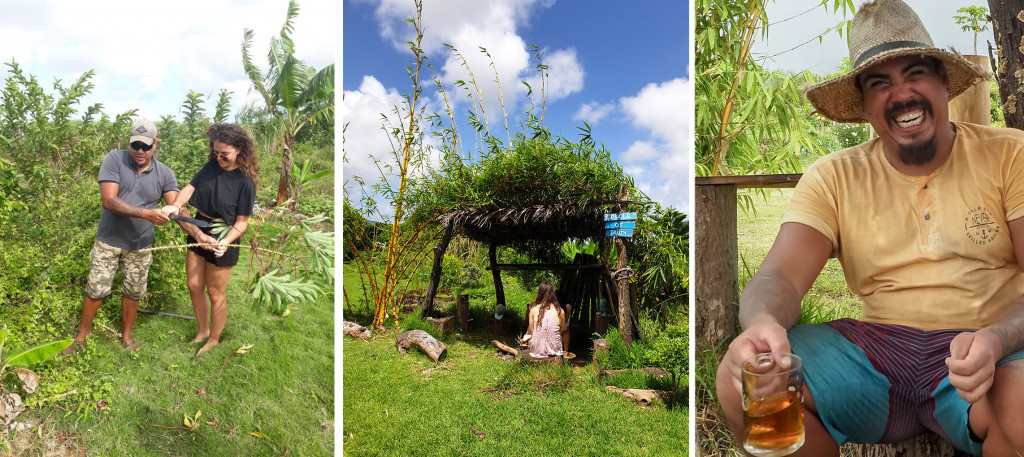 Children will love to explore the forest to pick fresh veggies and fruits for lunch, learning about bee-keeping and much more. Parents are also in for a treat with deliciously cooked meals and home macerated island rum! As the day will flow, you will learn the importance of living in harmony with nature and with the knowledge and experience acquired, design your very own sustainable garden at home!
Eco Stays & Glamping
If you are looking to escape from the buzzing world and go off the grid, we have some heavenly accommodations that awaits you! As a sustainable travel company we make it a must to offer authentic home-stays that are family-run or locally-owned. This ensures that every penny invested from our travelers stays in the community and boosts the local economy.
Whether you fancy a stay by a river or a hideaway in the mountains of Mauritius, we have the perfect pick for you. Stand up paddle, mountain biking, trekking or just heading to the beach will be on your to-do vacay checklist with our family holiday package!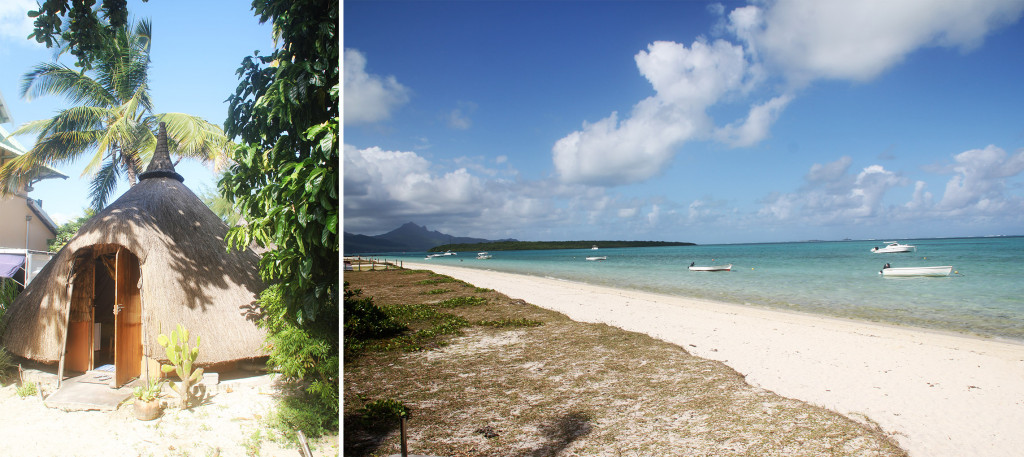 Please follow and like us:
Comments
comments