Le Morne Mountain
Le Morne, our mountain-peninsula at the southwest, has well-earned a reputation as a World Heritage Site due to its cultural background, honoring the sacrifice and suffering of fugitive slaves that found refuge in this mountain.

That being said, we would like to give a second nomination to the site for its scenic views. Daring hikers will be rewarded with some of the most beautiful lagoon-views of the island at its peak, so just keep that on mind as you go up the steep rocks, wear enough sunscreen and go for it!
Can I hike Le Morne without a guide?
The skirts of the mountain are open to the public and easy to navigate, but the authorities have blocked the access to the summit unless you are accompanied by a certified guide as a safety measure [Edited 10/2017]. If you are looking for a cool and reliable one:
Kind of hike: Half-day, round trip
Base of Le Morne

: flat and wide trail; well shaded, not physically demanding

To reach the summit

: very exposed to the sun with steep rocky sections where using your hands and provided ropes is necessary
Difficulty level: Medium – hard
Length: 6 km round trip
Duration: 3-4 hours
Highest point: 490m
Recommendations
Go early in the morning to avoid the stronger sun

Do not attempt it in rainy days: the trail is extremely slippery & the clouds won't let you appreciate the best of its views

Do not go alone

Bring hiking shoes or tennis with a very good sole

Wear lots of sunscreen and a cap

Bring mosquito repellent

Carry with minimum 1.5 lt. of water per person, a couple of bananas (or energy intake) and a light lunch
Route
Head towards Le Morne village following the brown signs to to Le Morne UNESCO Heritage Site. The signs will lead you to a dirt road that takes to the base of the mountain; there's a safe parking at the end of the road where you can park your car or scooter.
You'll find there an Information Centre and public washrooms, indicating the start of the trail. Follow the most worn path and you should arrive to the first striking viewpoint with views of Bentiers Island, Le Morne Beach and our exotic sea birds paille en queue.
It doesn't end there! Gather strength since the best is yet to come. Take the trail that begins the ascent to the rocky section. Follow the trail using your hands and the support ropes when needed, until you reach the peak (minor summit) with a big, metal crucifix on it. Once there, you have reached the highest-accessible point of Le Morne. Enjoy the view!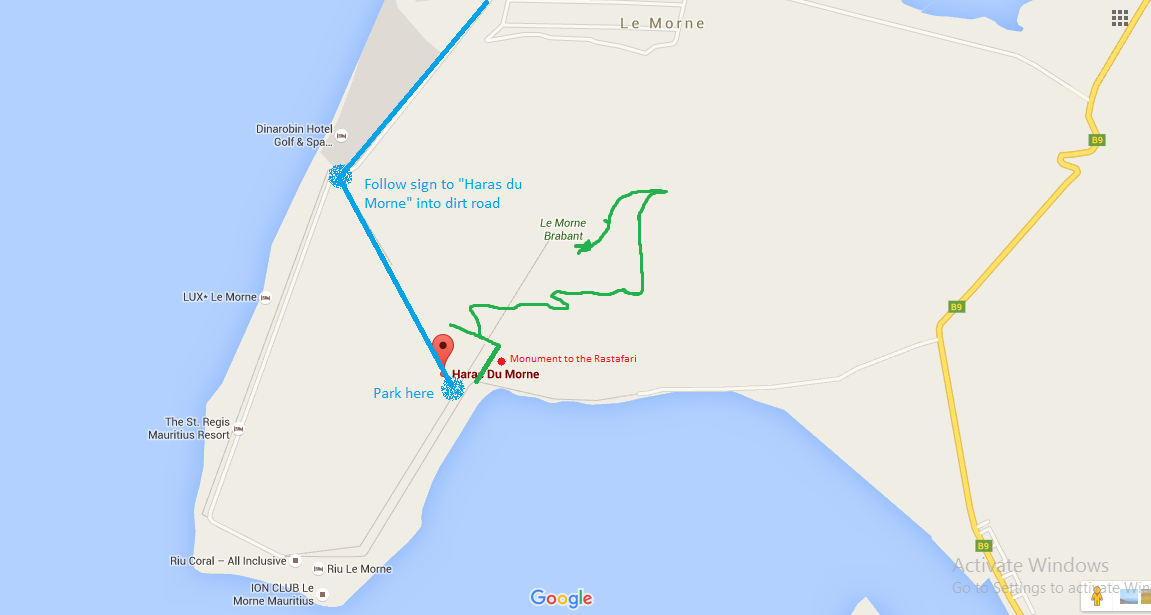 We help you plan your hiking and climbing adventures in Mauritius
Please follow and like us:
Comments
comments