Trekking the wild South Coast
The day belongs to those who wake up early; however, when you set your alarm at 5 am on a Saturday morning, you better make sure that's gonna be worthy. We drove all the way from the northwest of Mauritius to the southeast for our rendez-vous with Gael. We arrived to La Cambuse public beach at 7:40 am, the perfect time to stretch on a deserted beach while the sunlight gently takes over the sky.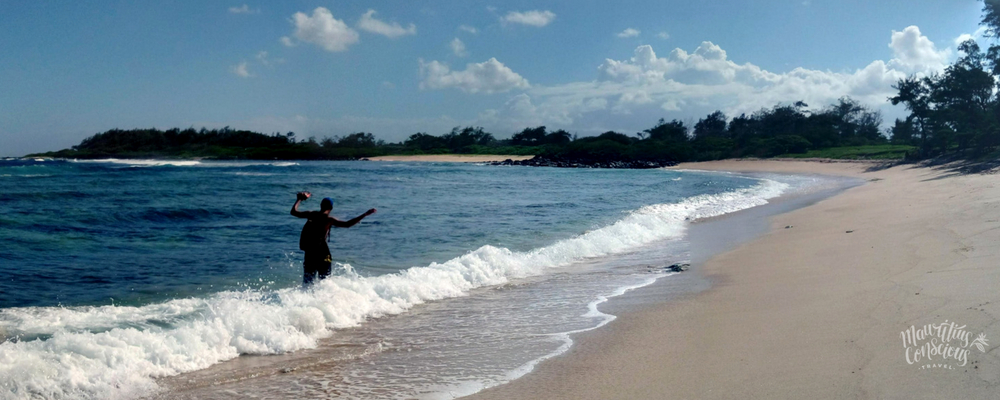 Gael is Mauritian, garden artist and entrepreneur. Ten years ago, he started a food forest in  a beautiful piece of land overlooking the sea. Aligned to principles of permaculture ("permanent agriculture"), his project aims to create an autonomous and self-sufficient garden, where every plant, tree and bush adapts and makes the most of the natural elements of its specific place, such as the sun, the shade, the composted leaves or the animals that visit. After a warm introduction, we started our botanical trek from La Cambuse, following a coastal path heading west.
On our left-hand side, we admired a succession of unspoiled beaches characterized by the wild and pristine sea of Mauritius southmost coast. Gael, who is also a sea-life and seafood aficionado, pointed to us a few spots for surreal snorkeling. I could picture him well swimming with a knife between his teeth and a pair of rubber boots at his feet – not that he actually did it but, it's easy to imagine him that way – while he shared with us stories of his great catches and rare finds under the sea.
At the edge of the beach, we bumped into one of the few remaining endemic species of coastal trees in Mauritius, the Heliotropium foertherianum, better known as Veloutier Blanc. Gael shared with us interesting details on the medical use of this and other creeper plants in the area.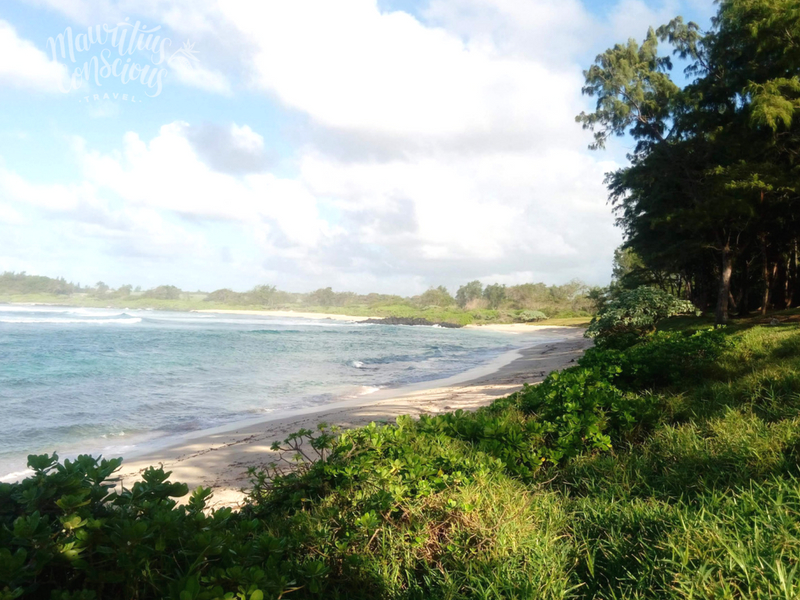 On our right-hand side, a completely different scenario was presented: a lush and tropical forest, extending towards the inland. We could distinguish clearly the repeated patterns of earth dunes alongside the coast. Gael explained to us their huge relevance to the coastal ecosystem: it is thanks to them, and the flora they nurture, that sand from the beach is prevented from eroding into the sea. When hotels and other concrete constructions take over a wild coast like this, the first thing they do is flatten the dunes to be able to access and build on the acquired land. By doing so, they condemn themselves and the rest of Mauritian inhabitants (fauna, residents, travelers) to lose the beautiful, sandy beaches that represents Mauritius. Wonder why the sand is eroding in Flic en Flac, La Preneuse, Bain Boeuf, Pointe d'Esny beaches…? Take a look at the concrete development around them.
The dunes and the dense biodiversity that comes with them, are just one of the many reasons for this area to be declared South Coast Heritage Zone. Sadly, and against several citizen organized movements, the government of Mauritius is starting to give away part of this land to South African investors, namely, the Pelangi Resorts (in partnership with Marriot International). A heartbreaking situation for Mauritians who have seen most of their littoral been privatized by international Hotel chains, despite the average occupation rate of 70% in Mauritius Hotels (2015).
To learn more about this story and support Mauritian citizens, visit Aret Kokin Nu Laplaz (stop stealing our beaches).
After one and a half hours of learning about Mauritius natural and social environment, we reached our goal: the beautiful fishermen village of Le Bouchon. On low-tide days, Gael likes to invite his guests for a water trek across the bay, to refresh. The tide was not in our favor that day, so we headed back to La Cambuse to enjoy the refreshing end swaying in its waves.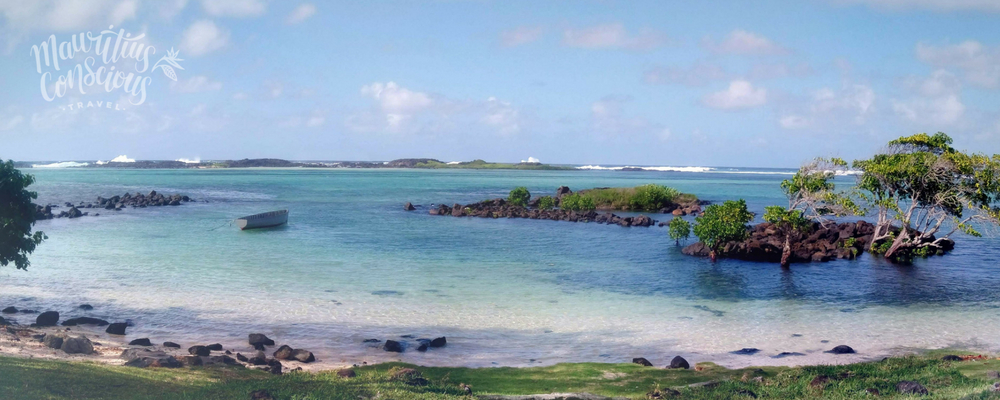 Gael welcomed us at his home in Deux Bras, cautiously guarded by his 4 adopted dogs: Poulf, Cali, Noreille and Maroon. Together, we prepared fresh drinks straight from his permaculture garden: coconut water, citronella juice, lemonade and, for the more classic ones, a cold Phoenix beer on the shade. His garden is a mother lode, bursting with fruits, vegetables, herbs and flowers of all kinds. Each of us got hands-on the ripe produce to elaborate a healthy menu, consisting of a salad of green papaya with pesto dressing, purée de manioc with garlic and pepper (cut by me, after a little lesson on how to use a machete) and the catch of the day grilled over a wood fire. I hadn't eaten so well in a long while. It was tasty, healthy and made with love. The garden-sourced lunch marked the end of an excellent morning re-discovering Mauritius and the start of a lovely afternoon sharing and laughing with our new friends.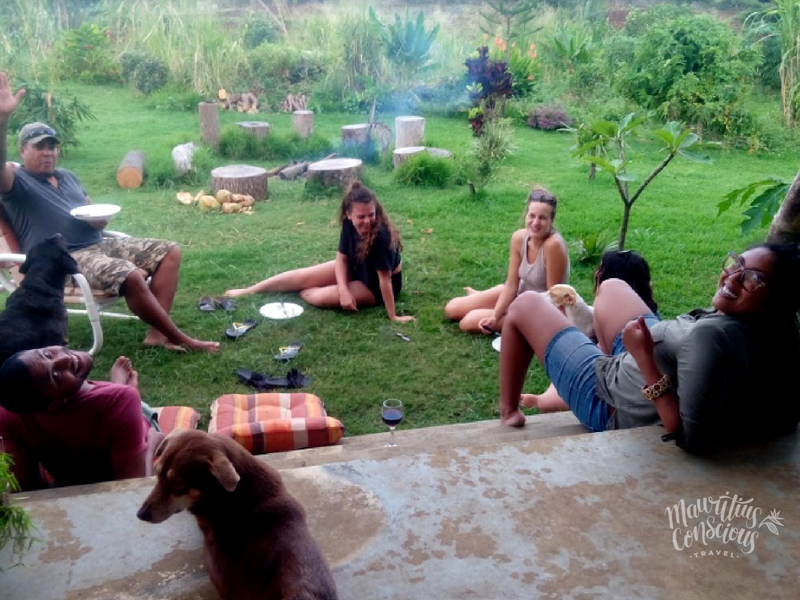 Interested on permaculture?
on plants?
on beaches?
We hook you up with the right people.
Please follow and like us:
Comments
comments