My Holiday Experience in Mauritius: How it all started

It feels like it was a couple of years ago when I was living in the Pacific Coast of Mexico, just graduated from high-school and dreaming about going out to discover the whole world like any other teenager. Of course I didn't have any resources back then, so I just focused on getting through my college years with only one goal in my mind: go on a world tour. Little did I knew then that my first stop would be an island in the middle of the Indian Ocean.
Almost 5 years went by and there I was, freshly graduated as an engineer with very few savings in my bank account and pretty much no field experience at all. So then again, I focused on my job and continued forging what in three more years would stop being a dream to become my reality. 
By then, my older sister had already been abroad for around 7 years, Mauritius being her last and current destination, where she found the love of her life and decided to start her own business in sustainable tourism, Mauritius Conscious.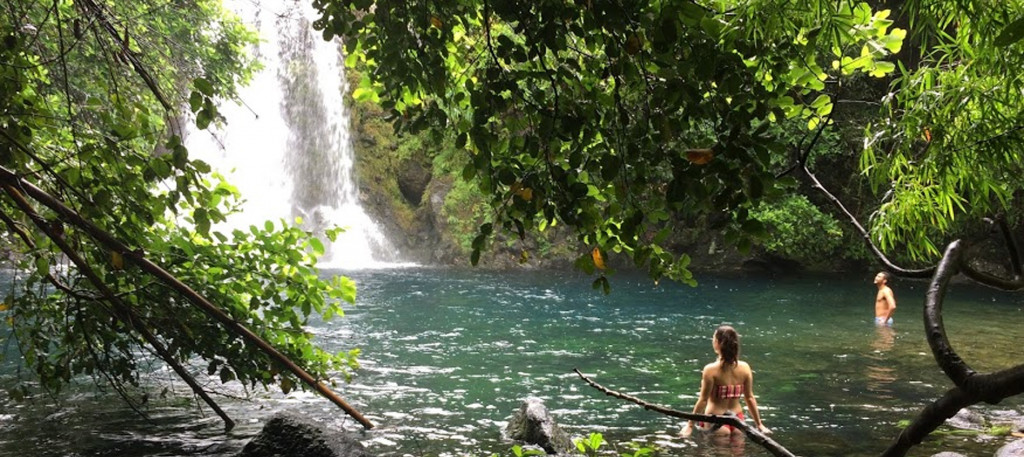 First stop, Mauritius Island
As we say in Mexico, "In life, there is no deadline that does not arrive, nor a date that is not met". After almost 8 years I found myself packing my stuff, saying goodbye to my family with a broken heart and boarding my first ever transatlantic flight.
From the moment I was about to land, I could see Mauritius looked very much like I had been picturing it on my mind for the last 3 years, back in my hometown, when listening to my sister's magical stories about secret waterfalls and untouched beaches all around that little piece of land on the great Indian Ocean.
I could also tell why she decided to start developing sustainable tourism here. A Small Island Developing State, attracting more and more tourists by the day. There is no other possible way to cater for the ever growing tourism without damaging the environment and population in it, than doing it in a conscious and responsible way.
My First Adventure
From the moment we left home on the north, all the way to the southern part of the Island, we got to see all different kinds of landscapes on a little more than an hour ride. From cloudy mountain tops on the horizon to immense sugar cane fields, we crossed tree-lined roads under a continuous light rain. This was the perfect start to my first conscious adventure.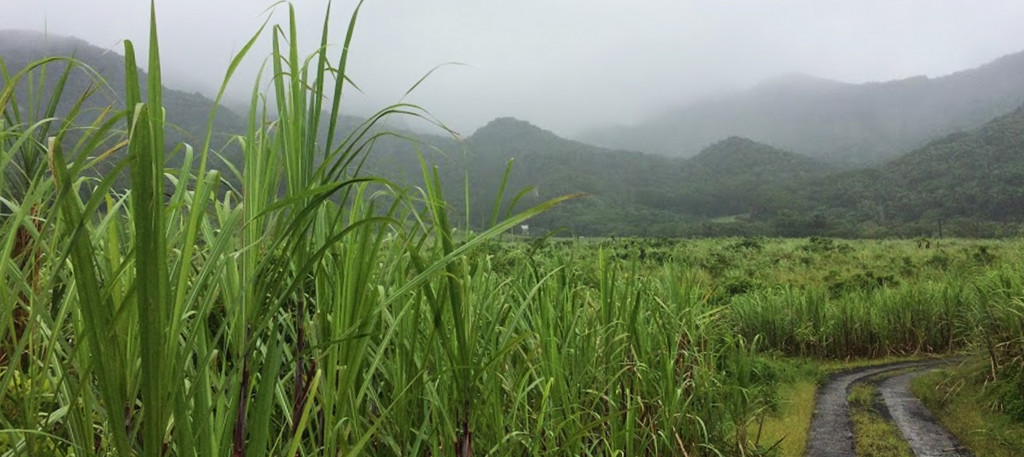 We saw a little spot on the side of the road and parked the car there. We reached our destination and I just found out I did not bring my rain jacket to my first hike in Mauritius, during a cyclone. Well, what's the matter? "Just get off your t-shirt" – I said to myself.
Yeah, a Cyclone!
In Mauritius, cyclones are classified into 4 classes according to their intensity, from Class I to Class IV. The first two are merely precautionary, persuading the population to take mindful preventive actions such as preparing a first aid kit and stocking-up essentials such as water, canned food and batteries. The third class is more safety orientated, recommending major actions like securing doors and windows, storing any loose materials around the house, cutting any branches that could damage electricity lines and even avoiding going out. In the fourth class you are not allowed to go out at all and you should disconnect all electrical appliances. Whatever the class is, you should always keep monitoring the bulletins on radio / TV.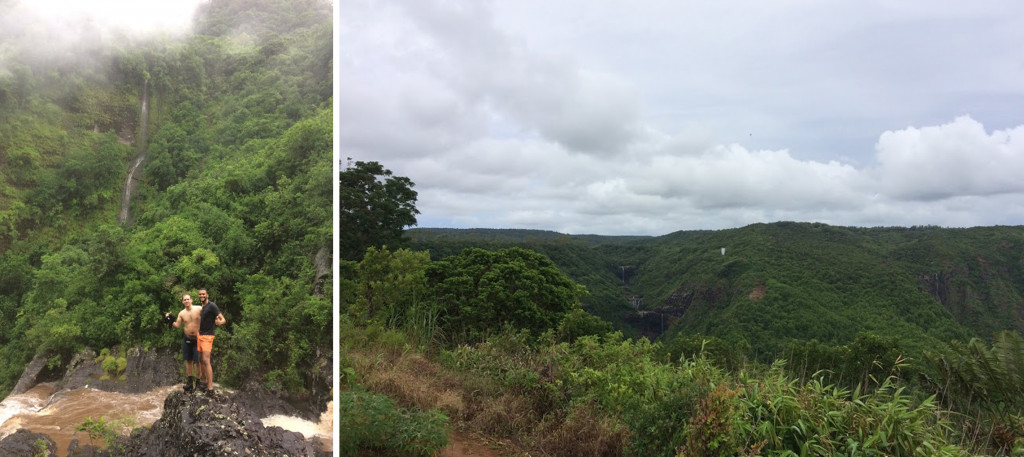 Needless to say, this one was just a Class I, more likely to be just a tropical rainy day, thus our decision to go out on our adventure. Whenever a cyclone goes to Class II, the advice would be to stay home and reschedule your activity for the next day.
The Mystical Eau Bleue Waterfalls
And so it began, making our way into the very grown green fields due to the rainy season, I started listening to the running water getting closer and closer by every step and all of a sudden there it was. At barely 50 meters from the road where we parked, was a powerful and continuous flow of water falling from about 20m into a huge blue natural pool. It didn't take us too long to get off our shoes and swim across the bright blue water body, aiming to get ourselves closer to the waterfall banging against the rocks, making such a thunderous show.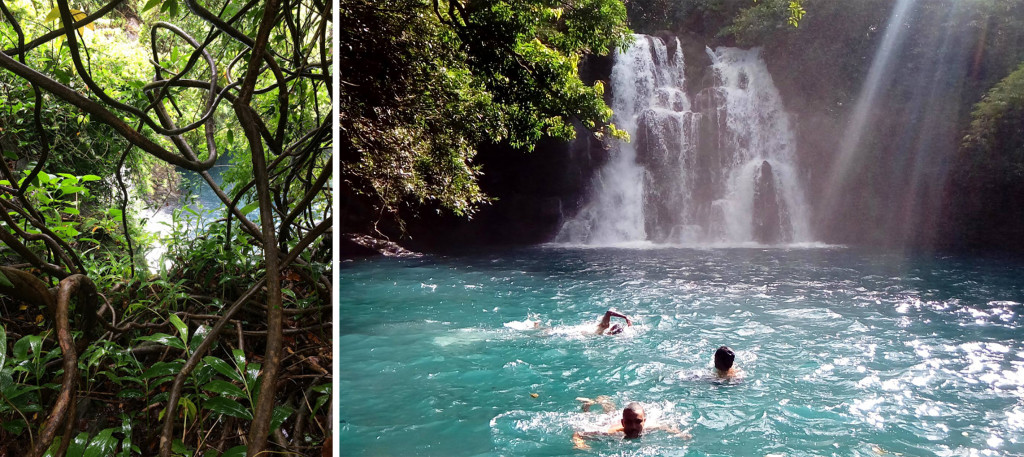 I tried to climb a little so that I could take a good jump, but it was too slippery and to be honest, a little scary. Besides, it was just the very first adventure of a long list; "there's no need to rush" – I thought to myself. 
After a while, awed by the sound and by the colors of this mystical place, it was time for us to continue our adventure up-road, so we managed to get ourselves out of the water just because we knew we were heading to a place as beautiful as the one we were enjoying right there.
A Secret Gem, Valleé d'Osterlog
We got back in our car and drove for about 20 minutes on the same tree-lined paths surrounded by the green sugar cane fields to reach our second destination of the day.
A botanical garden lost in the middle of the south-eastern mountain range. We followed a well-kept mountain bike trail, until we found a deviation leading to a new river. There was no apparent way to cross over the river, so then again, the thought of "what's the matter?" came to my mind and we simply crossed through it, getting our hiking boots completely submerged, and it really didn't matter, nor bothered me at all; on the contrary, this was probably the most amazing part of the trip, the conscious feeling of freedom, of connecting back with nature and letting go of all the unnecessary deep-rooted paradigms. What an amazing place this is.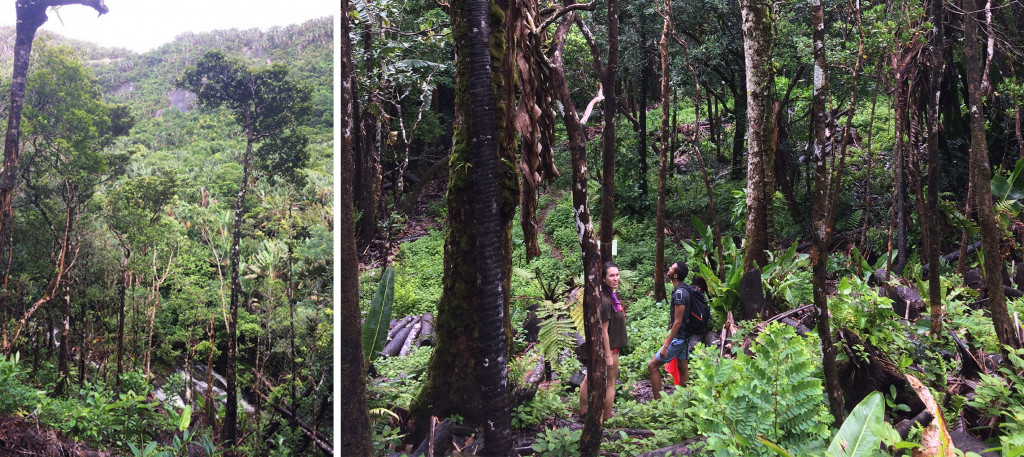 We continued our way through the hiking trail, which by every step would only get better. We got to see a good part of the Mauritian endemic trees on our way to another amazing waterfall. This one was big enough for us to take an energizing bath right beneath it, as well as a good laughing session.
Why & How is it Sustainable Tourism
On our way back, we went through a whole different trail with so much more palms, trees and plants, many of them with their names sticked on top, so that anyone could learn a little more about this country ́s flora, while enjoying an easy hike. Finally, to add the cherry on top, we got to see a couple of giant tortoises protected by the Osterlog team in their natural habitat.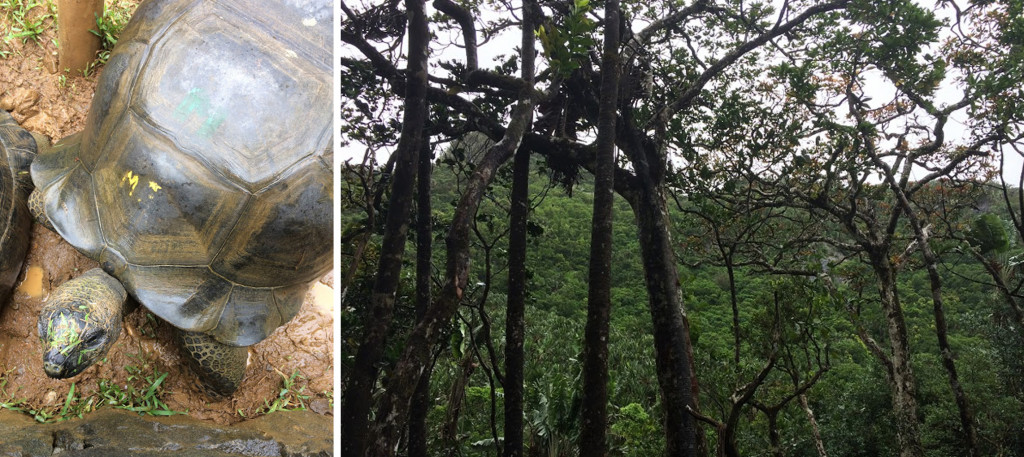 I'm so glad to see that there are so many people contributing to the green cause, creating alternatives to boost sustainable and responsible tourism like these guys who are doing an amazing job by preserving and restoring the endemic species of Mauritius forests.
We headed back home for a relaxing bath and a sumptuous Mauritian home-made dinner after an epic first adventure.
Adventure No. 2
We departed from Trou aux Biches, this time headed to the southwestern part of the Island on our usual ride of about an hour and 20 mins. It was a very sunny day, unlike the first one. You'll see once you come visit, one day the sun is out and shiny and the very next one it won't stop raining; the good news is that Mauritius Conscious' Trip Designers will have just the perfect off-the-beaten-path adventure for any kind of weather and skill level, for you to have a fantastic holiday experience in Mauritius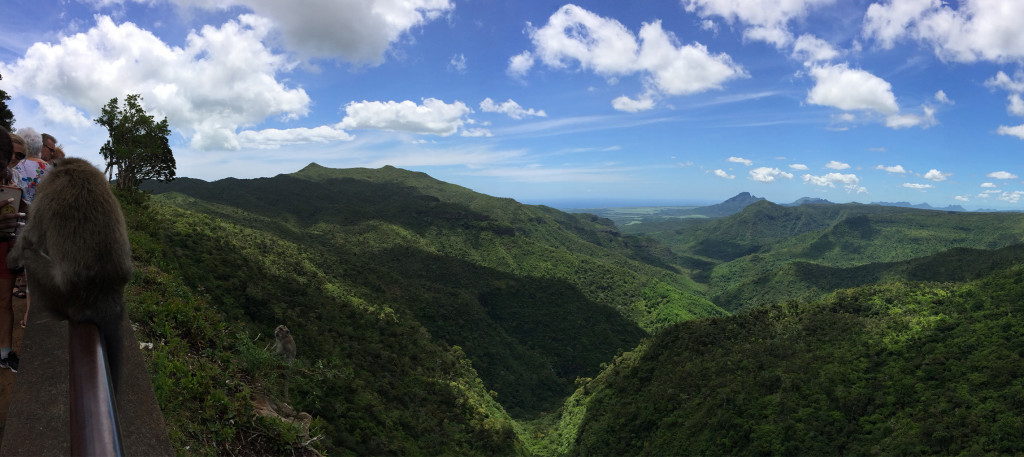 We got to our destination, the Alexandra Falls viewpoint, one of the must-see places within the Black River Gorges National Park. Thus, we got there pretty early to avoid the crowds and as expected, we were almost the first ones to arrive. Only before us were our Mauritian and Kenyan friends (surprisingly punctual!) who were joining us in this adventure. We prepared our stuff to begin the trek.
Mesmerizing 500 Pieds Cascade:  The perks of discovering the island with local savvy friends.
The parking lot is right next to the Alexandra Falls viewpoint, and from there we descended on a hike of about 45 minutes, through tall enough trees and bushes that covered us from the bright sun. We made our way through the tropical forest, crossing from little, to medium sized streams to what would soon become one of my favorite spots in Mauritius. A 500 ft. tall waterfall that invites you for a delicious and refreshing splash in its infinite natural pool. Meanwhile, one can enjoy the view of the south coast and its endemic forest, through which the river runs to meet the vast Indian Ocean.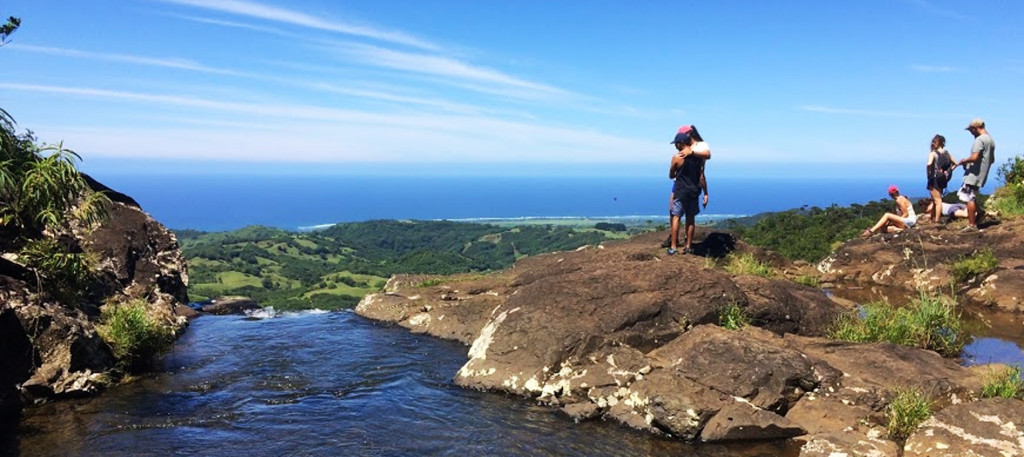 We had the whole place to ourselves and after the refreshing bath we dried ourselves in the hot basaltic rocks, while having some snacks to gain energy for the return hike that would now be uphill.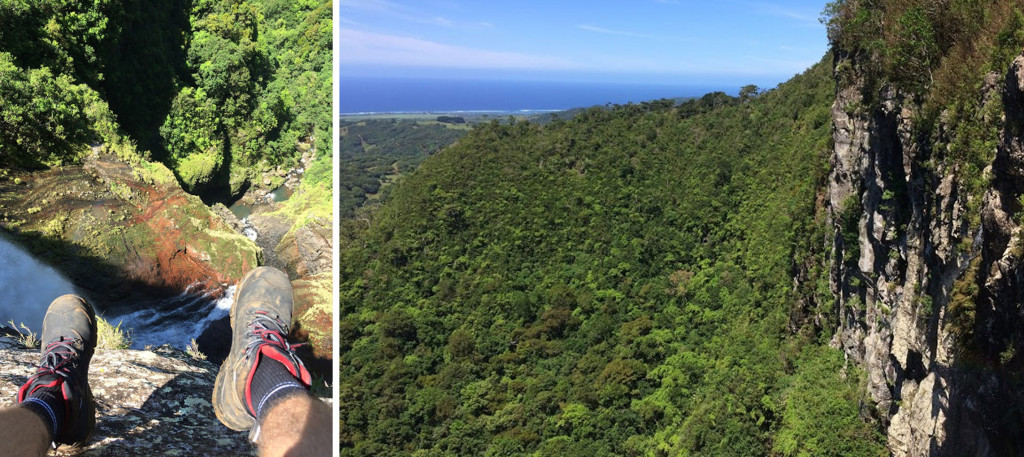 It was not until our way back around 11:00 hrs. that we crossed with a couple people on the trail; by the time we got back into the parking lot, it was already crowded with families and some snack trucks. The perks of discovering the island with local savvy friends…
The West Coast of Mauritius
We got to our car and set sail to a relaxing evening on the west coast, at Tamarin; after a 45 min drive through the serpentine roads of the Black River Gorges and Chamarel, we reached the lively beach of Tamarin, where one can enjoy a delicious lunch consisting of local street food like boulettes and samosas, which are steamed (the first) & fried (the second) little bites stuffed with veggies or meat, to more western options like hotdogs and pizzas in the wide variety of lovely sea-view shacks and restaurants.
We decided to take our lunch to-go, and have it on the shaded beach, while relaxing and watching locals surfers waiting to catch some waves. 
We headed back home with our usual convo of full bellies & happy hearts after an amazing day.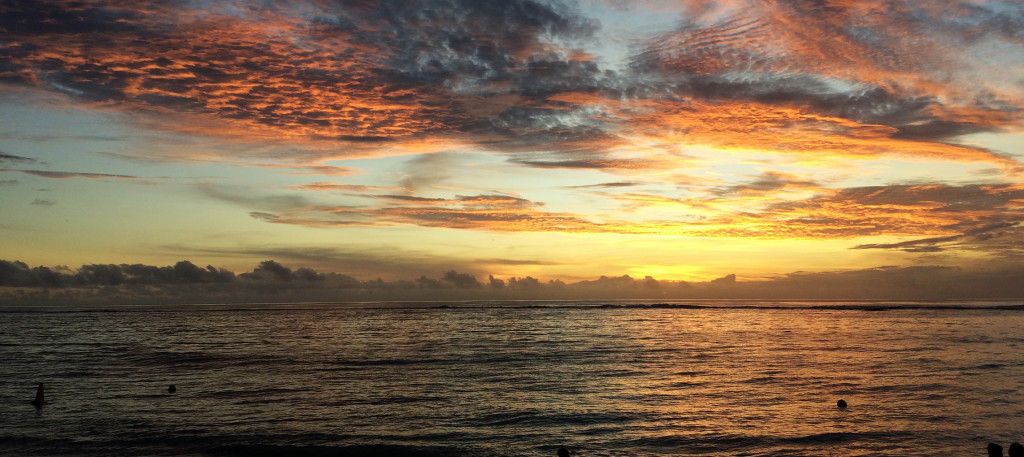 It Only Gets Better!
I remember there was a cyclone Class I forecasted, so we decided to explore the biggest waterfalls of Mauritius. We headed towards the south, to the Henrietta´s bus station in Vacoas, where at barely 100 ft., the trail for our most challenging and exciting adventure so far was waiting for us. 
This is probably the thing that I love the most about Mauritius. Wherever it is that you live, you will always be at a walking distance or at a very short drive from a wanderlust world; be it a lively beach, an imposing peak or a majestic waterfall. This time, literally, after a 5 minutes walk from the bus station, we were immersed in a tropical forest where the top trees are so dense that they cover the whole sky, containing all the humidity in between, making you feel like a boulette in a steaming pot. 
Once you've trained yourself in at least a couple of previous hikes, you are now ready for the full day experience in 7 Cascade!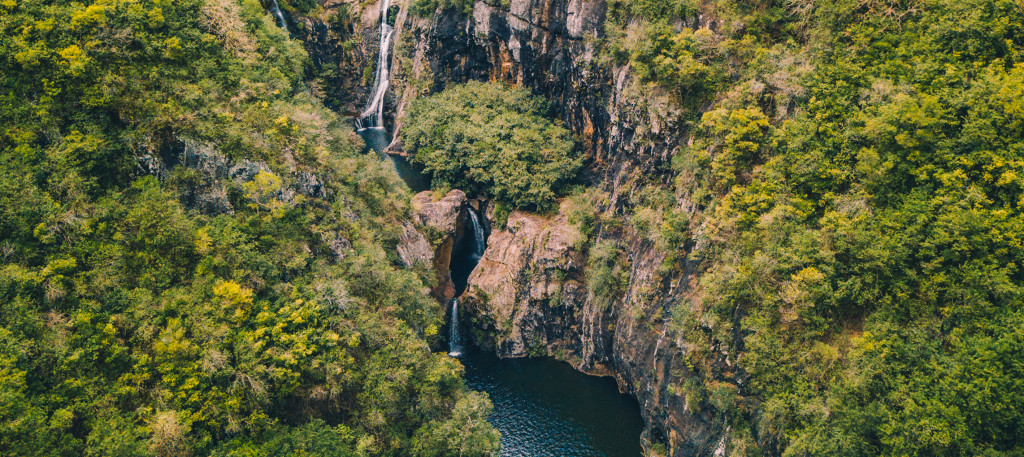 We descended all the way to the bottom of the canyon and started our way up through the Tamarin River. I don't know where or how to start describing all the things you get to see down there; but I'll give it a shot by beginning with the beautiful family of 8 baby tenrecs and their mom (a local mammal who looks like a little porcupine, locally known as tang), the imposing cliffs & waterfalls one gets to see from the bottom, and breathtaking views you get to experience from the tops. There are not enough words to describe those… but I'll try as we get to them.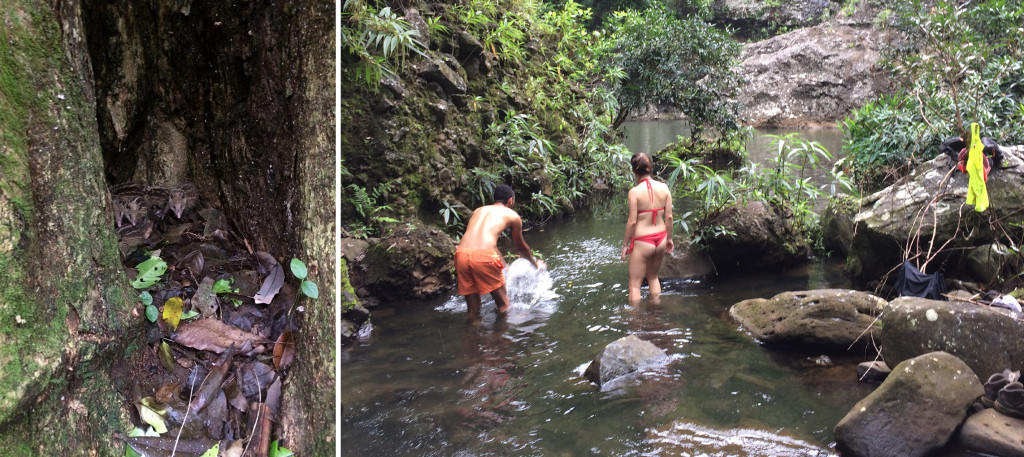 The lush heart of Mauritius, 7 Cascades
We made our way through the slippery river, following the traced marks that go from little painted dots in the rocks, to ribbons tied to the tree branches. After a while, we ran into a huge fallen tree, right in the middle of the trail, brought by the landslides caused by the torrential rains that come with the cyclone season. So we braced ourselves and carried our things in our straight arms in our failed attempt to keep our stuff dry, while we swam our way to the other side, around the tree. 
We enjoyed the splash and views of the first plunge pool before making our move to the next one, which we reached by climbing the banks of the first waterfall. It was hard not to stay more time in each natural pool, but we knew there was a long way ahead of us, so we literally pulled ourselves back to the trail.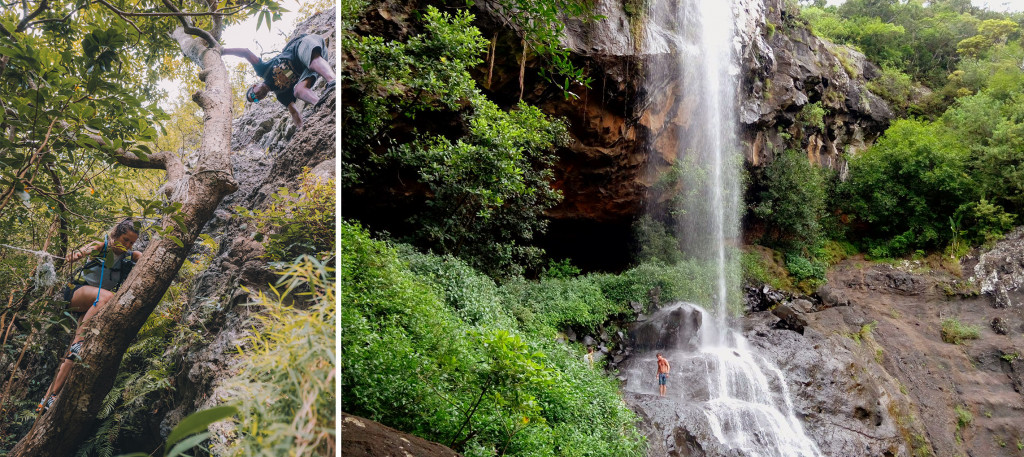 Which brought us in front of the first "death wall", where one has to use both legs & arms to climb up, as well as to practice conscious breathing not to get dizzy on your way to the next waterfall.
It was all worth it
And we made it to the top of the third waterfall. Here is where I will struggle to describe what we saw. Imagine yourself sitting on a cliff of about 400m tall, watching the vivid mountains full of dancing trees, palms and bushes. It was like seeing the Earth breathing, with a deep blue river crossing right through the middle, making its path all the way down to the Ocean.  Everything was covered by intimidating dark clouds, coming our way from the Ocean, with two or three Flying Foxes silhouettes overflying the canyon. Nature at its maximum expression.

It felt like I traveled a 100 million years back in time, to the dinosaurs era, on that three hours hike from the bus station to the third waterfall. Sitting there, soaking that breathtaking view, a realization sank in. Thinking about how long these landscapes have been here, way before humankind arrived, made me realize that my 8-year long wait dreaming to explore the world was meant to bring me exactly here. Everything that I went through had to happen for me to be there, at that exact time, with these people. I came to understand that it is my responsibility not only to preserve these places, but to restore those that we've already damaged.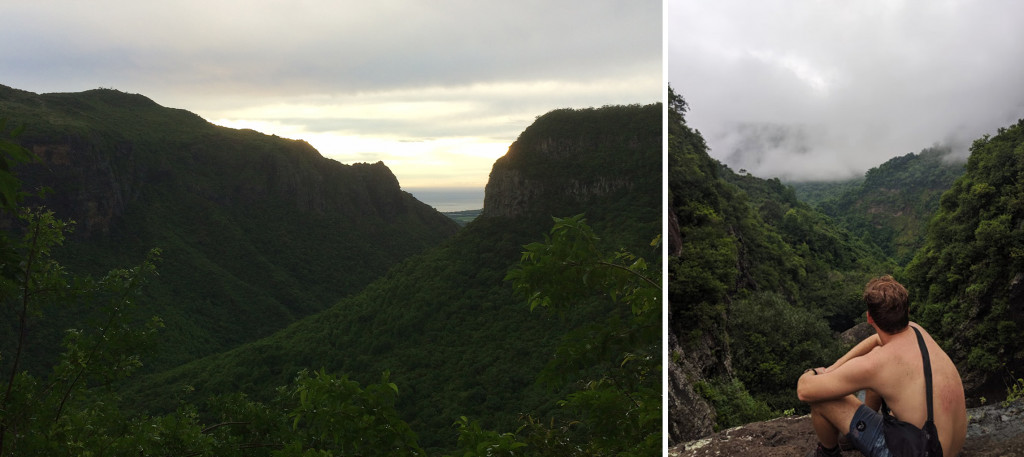 Please follow and like us:
Comments
comments