Holiday Experiences in Mauritius: The Real Heart of Mauritius, its People

In this article I'll take you through three different holiday experiences in Mauritius where we immersed ourselves at the heart of the real Mauritius. A permaculture garden, the ancient crafts and the old trades of Mauritius, where our local friends taught us about their sustainable way of life. One that many of us dream about, but very few dare to step into. Either for thinking it'll be too difficult or most likely, (and personally) for the fear of detaching ourselves from all the amenities that our usual lifestyle brings with it.
The Big Gael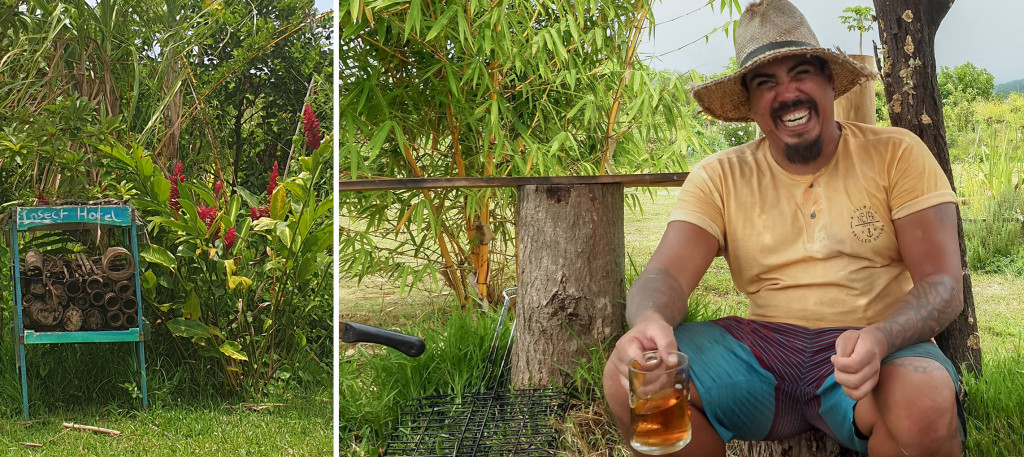 We headed towards the south tip of the island, on a ride of almost 2 hours from our lively village of Trou aux Biches in the north, to meet our friendly host Gael. He is a very big guy, probably somewhere around 6,2 ft. tall, but don't let he's size intimidate you, as he's one of the friendliest guys I've met on the island. It was the first time we ever met, yet it felt like we had been friends for a lifetime. He opened the doors of his home to us, where we prepared a delicious meal with ingredients sourced from his permaculture garden and enjoyed a unique afternoon of pure quality time with him, his girlfriend and their lovely dogs, as well as the newest member of his diverse family, a little baby monkey he rescued in one of his treks down the coastal road.
As I mentioned before, we drove a long way to cross the island, so he received us with a freshly squeezed iced lemonade to refresh ourselves from the heat of the road.
Permaculture as a way of life
After the refreshing drink and the usual introduction, he took us on a guided tour through his garden as we harvested some tubers, fruits and herbs for the meal we would prepare later that day. He also explained us about his sowing methods as well as the crops he was expecting in the near future.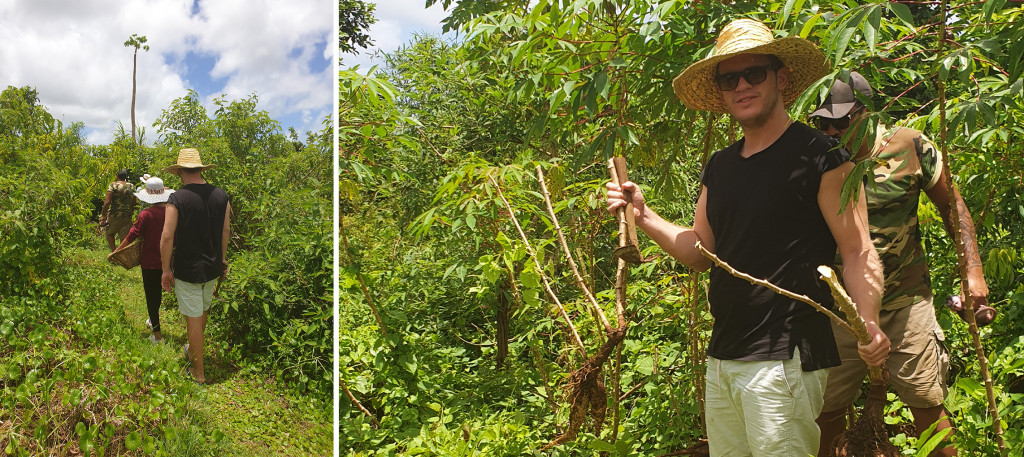 I'm grateful that many of the terms he mentioned were familiar to me, as my father was an agriculture lover. Since we were very young, he would bring us to different farms to teach us how to sow and harvest the crops, to later practice in our own garden. I think what I liked the most about this experience was that it brought back a lot of memories and anecdotes with my dad as the love and respect to the Earth. It's amazing how much you can get from a little piece of land if you work and care for it.
So today's adventure was all about this. What are the vegetables, fruits and even medicinal plants you can grow together, which one needs more sun or shade, which ones need more space? so that they can all grow together in harmony, supporting each other. You can expect a wide variety of options from sweet potatoes and carrots, through bushy lemon and pomegranate trees, all the way to the tall mangoes trees.
The Little Farm
Right after the tour of the garden, we reached Gael´s little farm, where he keeps a couple of little pigs, some chickens and ducks, as well as a little bee farm, all fed by the garden, and serving as a source of food to him as well.
A holistic way of life, where every living being takes from the ecosystem only what it needs to survive and let the others do the same, for it to flourish and keep the cycle of life going on in a responsible and conscious way.
The Feast Prep
We headed back to his house for another refreshing drink, this time was one of those yellowish barley drinks that are better served cold dead. I'm sure you all know which ones I'm talking about. And we started with the preparations.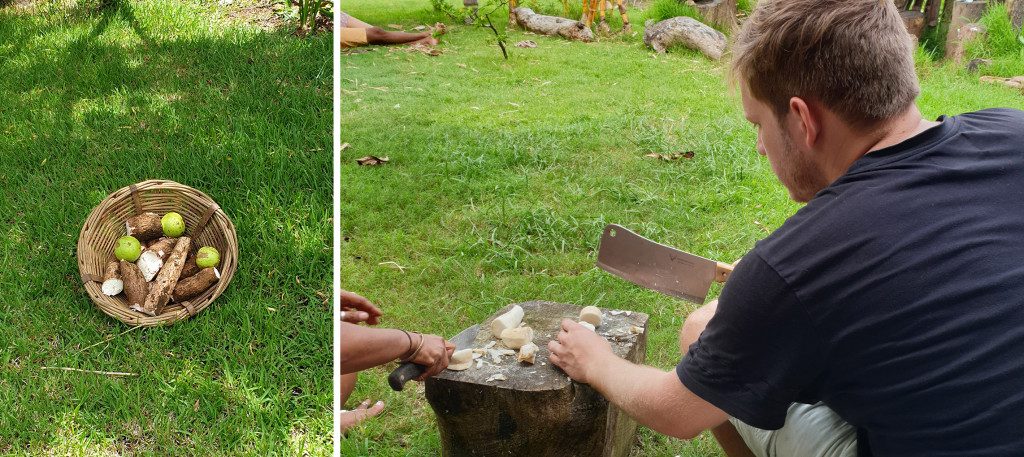 First we peeled the manioc skin (one tuber we picked earlier), then we cut it in small cubes, to later boil it and then smashed it along with some herbs we also picked from the garden. While we were working with the manioc, Gael was preparing a delicious fish ceviche, from the catch of the day. For those who are not familiar with ceviche, I'll give you some context. It is a Latin American dish, where you cut little cubes of raw seafood, mostly fish and shrimp and then let it cook for a few minutes just with a lot of lemon juice before serving it. It is normally accompanied with onion of course, cucumber, tomato and avocado, and topped with a little bit of coriander. It is a delicious, easy to cook and refreshing appetizer for a hot summer day.
As we were enjoying our cold beers and ceviche, Gael was just getting started. The second dish he brought was a deep fried fish served with a homemade sauce made of local peppers, so good that all of us ended up licking our fingers.
By the third and last dish we were so satisfied, we thought we were not going to be able to even try it, but he somehow managed to make every coming dish even better than the previous one. Plus, he said he had left the best for the end, so of course we were not going to miss it. And there it was, a grilled filet accompanied with the puree we were working on earlier. As simple as that, but as soon as we tasted it, it didn't take us very long to leave the dishes sparkling clean.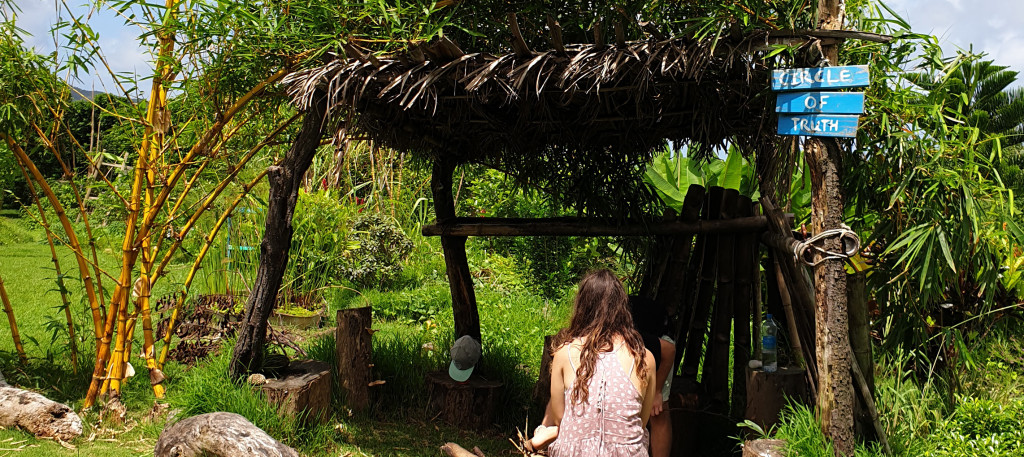 After the feast we had to lay down for a while in his lovely garden, under a shade he had built himself with bamboo and palm trees for a recovering power nap before heading back home.
A Vision to the Future
After that evening I realized that living in a house where the only sources of water and electricity are the rain and the sun, as well as growing your own food is way easier and comfortable than I had thought so. It made me see that going back to the basics gives you a whole different kind of amenities, such as being able to sleep in the grass, under the palms shade while listening to the wind. The smell of freshly harvested crops and wet earth when it's about to rain. All of the things we always think about and yearn for when we are in our "normal" homes.
I understand it is out of our hands the way our parents, and the society we grew up raised us, but we are completely responsible for how we want to live our grown up lives as well as how we educate the coming generations regarding nature, agriculture, autonomy and self sufficiency.
A Genuine Mauritian Experience
This experience was different from any other. We picked up our local friends Tasha & Shanjana on our way to the southeastern tip of the island, headed to a village named Beau Vallon, situated between the oldest port of Mauritius, Mahebourg, and one of the most lively beaches, Pointe d'Esny, on a drive of about an hour and 15 minutes.
I had an idea of what this experience was about but to be honest I wasn't very sure about what to expect from it. However, I was already there so I just thought I'd better enjoy and make the most out of it.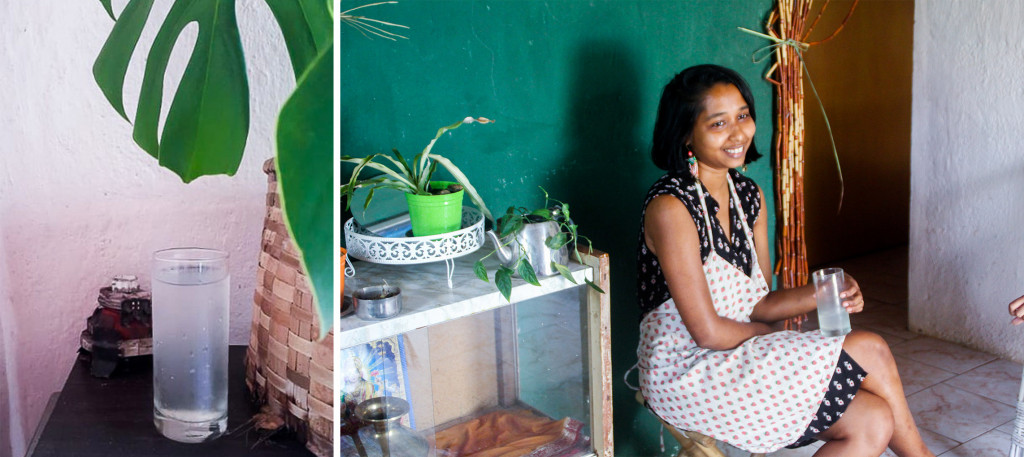 As soon as we arrived at our lovely host's place, she received us with a fresh glass of coconut water, so she won me from that moment on. We had a little chat where she explained to us what she does and debriefed us on what we were going to do throughout the day with her.
Shivani is a young yet very talented woman, who is helping to preserve the Mauritian handcrafting traditions. She has a unique talent to work with pandanus, a palm-like tree and shrubs native to the tropical weather of Mauritius; but she's also exploring new and alternative materials to create her charming jewelry such as recycled colored glass and old clothes.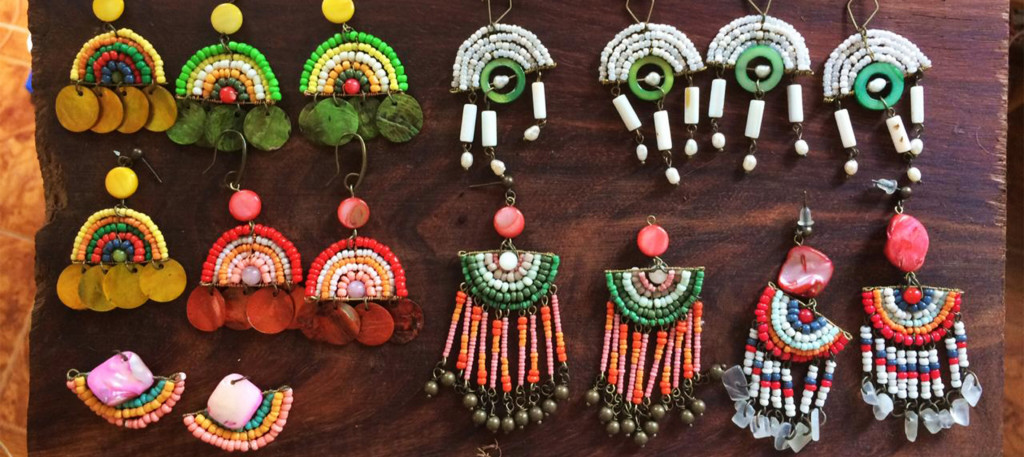 A Day with a Local, Shivani
After our refreshing coconut water, she invited us to her organic garden, where she grows a good part of the food her family eats, such as potatoes, tomatoes, a lot of different herbs, and of course, the coconut palms. We collected some of these herbs for the delicious meal we were going to prepare with her later that day.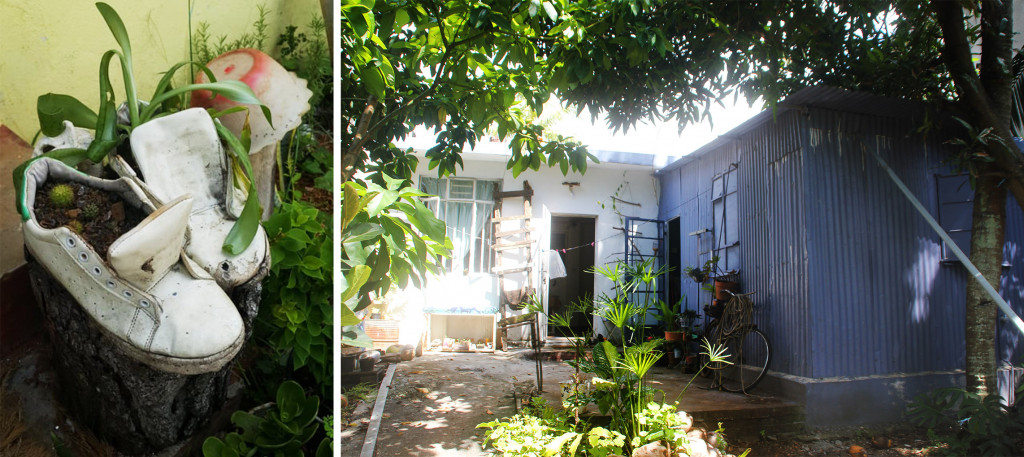 She also has a little nursery for the baby plants, where she uses anything you can imagine for her plant pots, from old shoes to coconuts shells and old tires.
She then gave us a little explanation on how she manages her organic waste; which she mixes with ground and other enzymes on a big can, to create bio-fertilizer out of it, which she then uses at her organic garden.
The Pandanus Crafts
By the time we went back into her living room, I was already completely immersed in the experience, enjoying every aspect of it; but the best part was yet to come!
She gave us a bunch of pandanus dried palms to each of us and taught us from scratch how to craft it, so that it wouldn't break when knitting it around the hardened bracelets she gave us before. It took us a while, and a lot of Shivani's patience and expertise so that all of us could understand the art of knitting, and almost two hours to finish our bracelets. But that was just the first part.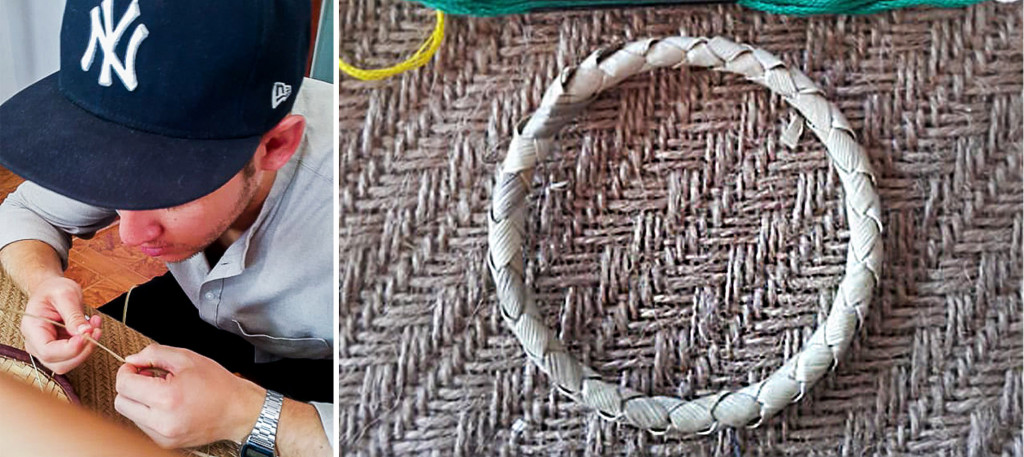 She then brought her magic box, full of threads of any color you can imagine and some other crafting materials, to give our bracelets the unique personal touch. We picked our colors and rolled some details into our bracelets.
The Mauritian Meal
By the time we finished with our handcrafts we were starving. But Shivani always has an A's under her sleeve. While we were so focused on our handcrafting, she had already cooked the traditional white rice and prepared a delicious curry, with some of the herbs and veggies that we picked from her garden earlier.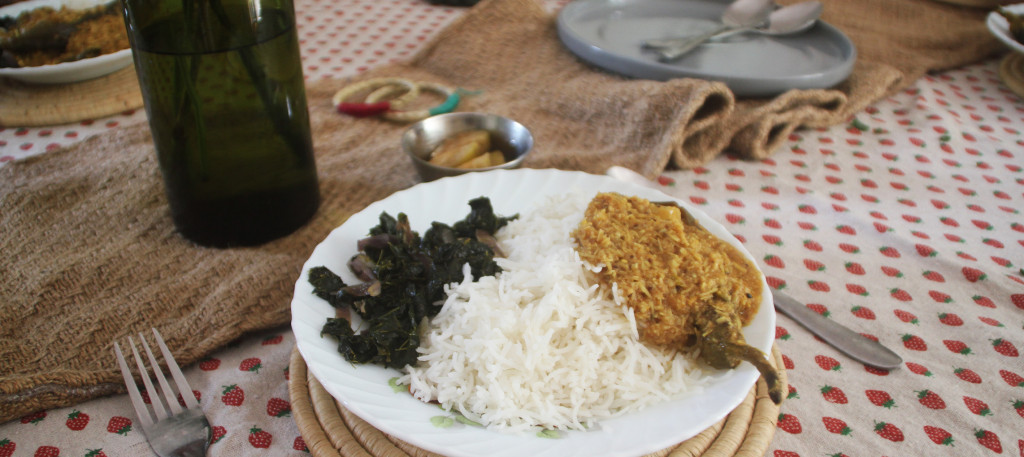 We enjoyed a delicious meal while she shared with us some recipes of traditional dishes and stories about the old traditions of Mauritius.
Cultural Heritage Preservation
On our way back home, I was so thankful and at the same time surprised by what I learned that day. Not only about the organic farming and waste management, but mostly about being able to make a beautiful souvenir of my trip to Mauritius with my own hands, by supporting a local artist and acknowledging that my trip is helping to preserve the cultural heritage of this island.
It is our responsibility as conscious travelers to make sure that our visits to any destination either for leisure or business, aim for eco-friendly accomodations and for this kind of activities which boost the local economy creating a sustainable way of life for those who live at the destination.
Witness A World Slowly Fading Away
Once you come to Mauritius, you will be surprised at the percentage of land that is destined to sugar cane plantations. As a matter of fact, the total area occupied by these fields is now bigger than the endemic tropical forest of the region. Yet, due to globalization, Mauritius has now more competitors on the sugar cane distribution around the world. Thus, you will witness how this industry is fading away, as old sugar states transform into corporate, textile and leisure malls buildings.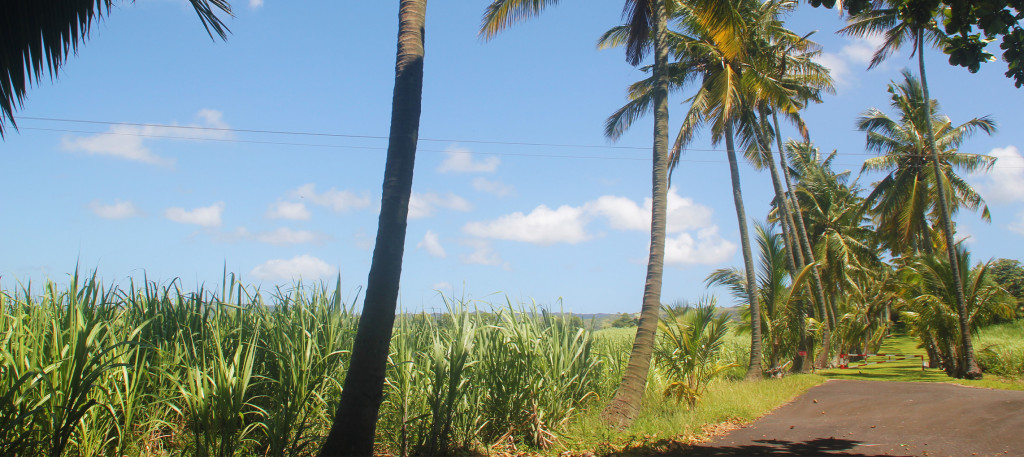 However, as sugar cane has been the primary economic pillar of the island for the last 50 years, there are still some vestiges of the once great sugar states around the island.
St. Felix Sugar Estate
It felt as if we had traveled 50 years back in time as we entered the St. Felix sugar estate, where Sophie, our host and daughter of the owner of this historical site, was waiting for us with hot tea and regional snacks.

Sophie gave us a very interesting introduction to the estate's history where she showed us old photo albums and newspapers, even a scale model where we could see how the sugar estate used to look back in its active days. She then took us for a tour all around the place where we immersed ourselves in the way life used to be in the times of indentured labourers, as we visualized it through the modest houses where they used to live and the different places where they used to spend their free time.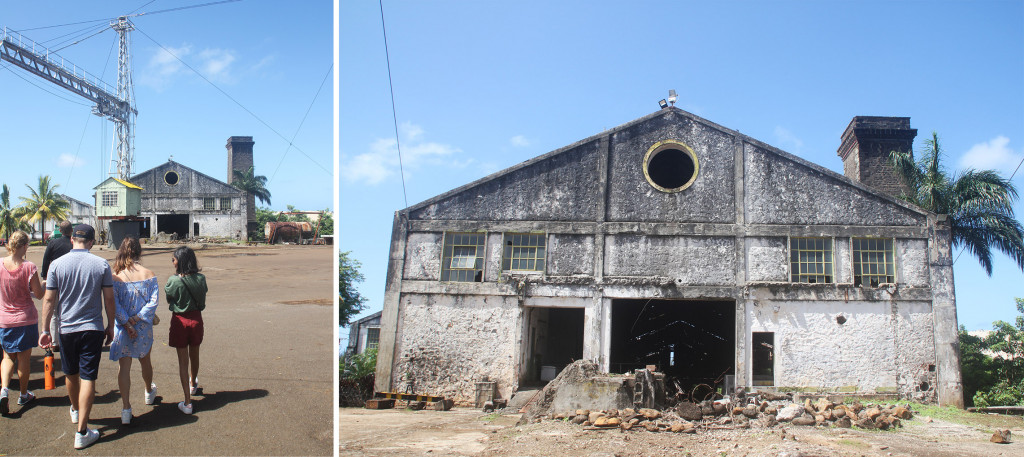 We then walked into the courtyard of the huge sugar factory, which used to be the heart of the sugar estate and where her dad's old office used to be. There, she explained to us all the process that had to be completed to extract the sugar from the cane, as well as a little bit about the different types of sugar canes, their sowing and harvesting methods as per the seasonality.
End of an Era
Among other local-scene gems, Sophie ended up her tour in the front yard of the sugar estate, where all the ancient machines of the factory lay on a beautiful garden so that all the visitors that come to the living museum can appreciate them.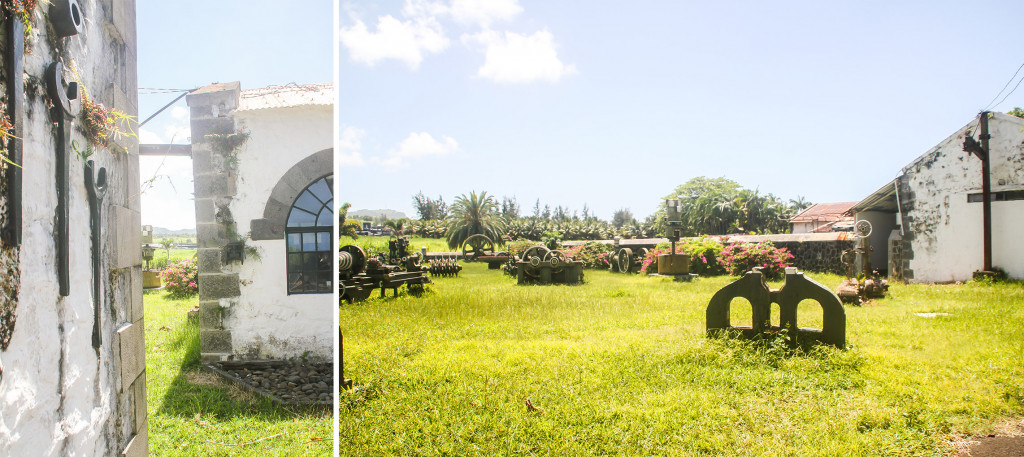 As globalization is now reaching even remote islands like Mauritius, we can not resist it nor remain quiet to the fast-changing pace of life. Rather, we need to be resilient and look for sustainable alternatives like Sophie, who is keeping alive the story of the authentic trades of Mauritius, while giving her dad and herself, the satisfaction that what once was the most important source of jobs and income for the locals, can still remain actively boosting the local economy even with a completely different approach, towards sustainable tourism.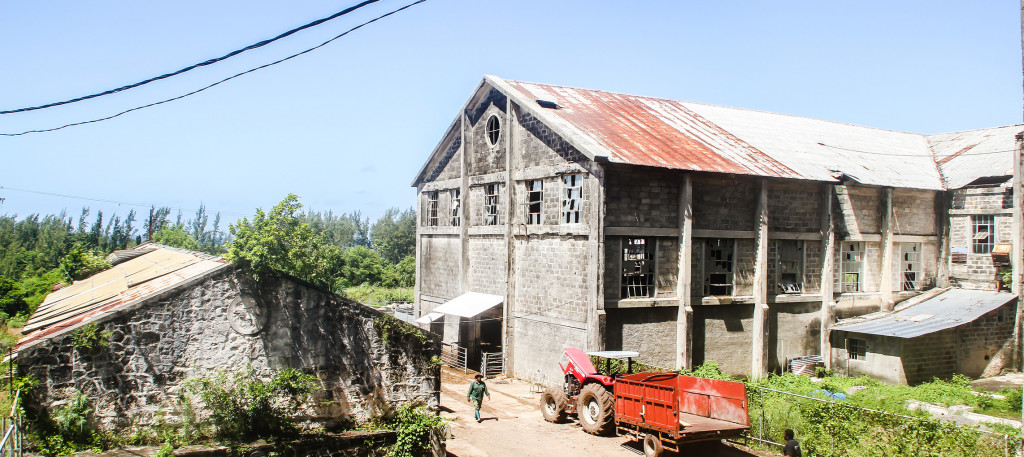 Please follow and like us:
Comments
comments