The below story is part of our #LocalExplorers series where we asked our frequent local guests to share their local getaways experience with us.
This is the story of local resident Louise Mahlke who treated her family on visit to Mauritius to a day cruising at sea.
Getting the whole family together for a day at sea
A few days after our magical wedding in the North of Mauritius my husband and I (neither of us is Mauritian) still had lots of friends and family here from all over the world. We thought it would be fun if we got to spend some time together and decided to go on an adventure at sea, a family boat trip. Mauritius conscious was immensely helpful and quick to organise something accordingly at very short notice (not easy to get so many people, 19 of us, organised).
The catamaran cruise was going to leave from Black River early in the morning. After a fun bus ride, we arrived in Tamarin and were welcomed straight away by a crew member. A little motorboat made several trips and took smaller groups over to the large catamaran. It was a beautiful sunny day and the different colours of blue and turquoise were mesmerising.
Once all of us had boarded the catamaran we got a quick safety instruction by our captain and set off to sea.  The entire time we had a gorgeous view of the south-west coastline including the world heritage site of Le Morne mountain.
Drinks and lunch were included. And as we were all still in celebrating mood the beers flowed relatively quickly. 😉
Encounter with the dolphins: A moment of magic
Our first "stop" was about 30-45 min after setting off. We came across a pod of dolphins. There are 2 types of dolphins you can find in Mauritius. The bottlenose dolphin (like Flipper) and the spinner dolphin. The bottlenose dolphins are much larger and travel in smaller pods whereas the Spinner dolphins are smaller and usually travel in bigger pods. On this trip, we had the luck to see some spinner dolphins. It was beautiful to see them so close and in their natural habitat. Swimming alongside the catamaran, jumping out the water in front of the bow. They are such playful and interesting creatures.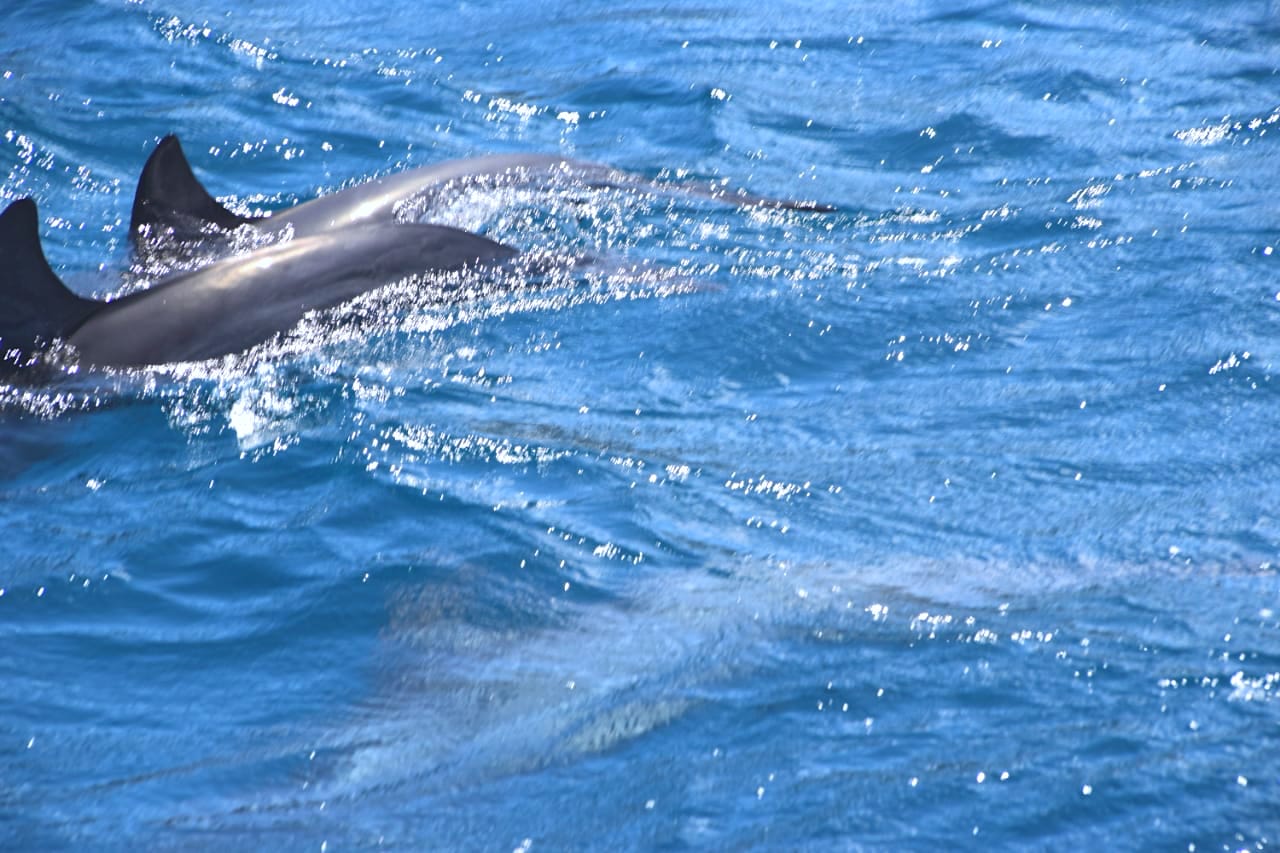 As mentioned before there was 19 of us including two kids of 10 and 4 years old. Most of us had never seen dolphins before or at least not this close. So, this part was extremely exciting, especially for the kids!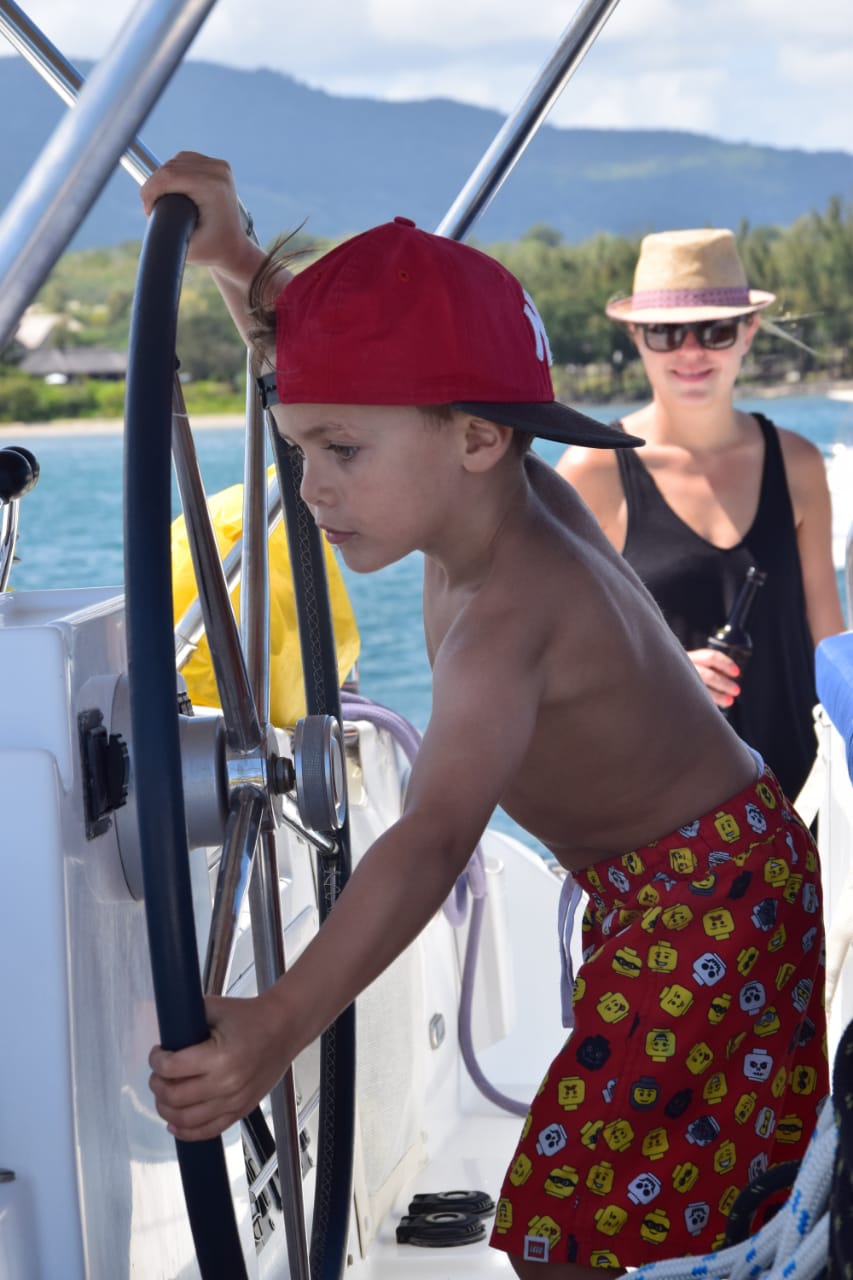 There were other boats and catamarans too, but all were very respectful and made sure not to smother the dolphins, giving them lots of space. Each patiently waiting their turn allowing the tourists to get in the water and swim with the dolphins.
We, unfortunately, did not have time to join the dolphins. But we did get to see them from very close up and the captain made sure we followed their route, or he predicted their route and manoeuvred the catamaran in such a way that they would follow us. This meant we got a good 45 mins of having dolphins remarkably close to the boat and being able to watch them. Especially the kids loved this! The dolphins were racing each other and playing and jumping out of the water. It was really special!
Some snorkelling fun
Next up we went to a beautiful snorkelling spot just off the coast at the bottom of Le Morne Brabant mountain. The catamaran anchored and we had roughly 1-1.5 hours to explore the coral reef. There were little signs underwater explaining about a certain species. The amount of fish we could see was stunning.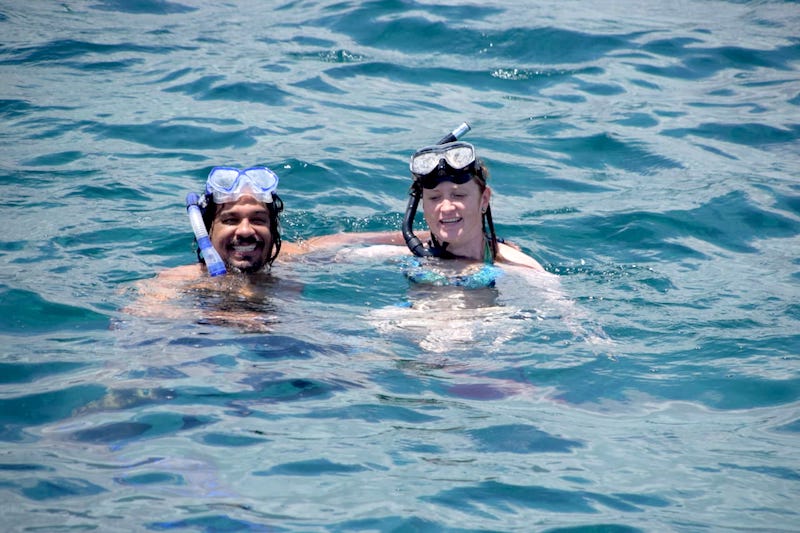 My dad has Parkinson disease and sometimes struggles with buoyancy in the ocean and especially with the breathing through a snorkel. But the crew were very patient and helpful with getting him into and out of the water.  There is something to be said about the quiet underwater. It is like you submerge into a completely different world. Everything is so peaceful, and it is easy to forget about time.
Mauritius has some pristine snorkelling spots. It is not just endless different fish you get to see, but also coral, sea cucumbers, sea urchins, and an entire thriving ecosystem.
In the meantime, the crew prepared lunch on the boat. It was a tasteful collection of typical Mauritian cuisine. Serving some fresh fish, octopus, chicken and fresh salad there was something for everyone. And after the drinking and snorkelling the food was well needed and enjoyed!
Rum tasting on Ile aux Bénitiers
The catamaran was now on the way to Ile aux Bénitiers. The island lies a little north of Le Morne Mountain and has a beautiful white sandy beach. Local vendors gather here to sell all sorts of local souvenirs. Necklaces made from shells and or sea urchins, beach towels and not to forget Rum. Mauritius is very famous for its Rum. As its main industry used to be sugar cane, Rum was a byproduct of that. On Bénitiers island you can find it with all sorts of flavours of macerated Rum. And the vendors let you try all you want. Needless to say, we tasted quite a few Rums, and everybody bought their bottle to take back home.
All in all, it was a super fun day. We enjoyed the sun, sparkling water in all shades of blue and turquoise, each other's company and the activities on the catamaran cruise.
I would recommend booking tours with Mauritius Conscious. Even though there are countless tour operators that offer the same or similar tours you can 100% rely on Mauritius Conscious.
They will pick what is most suited for you and will do anything in their power to make sure you have a fantastic time. Their partners have been chosen carefully and always with sustainability at heart. – Louise Mahlke
Reach out to our team at hello@mauritiusconscious.com to plan your family getaway in Mauritius
Please follow and like us:
Comments
comments