Romantic explorers' escape
Romantic explorers' escape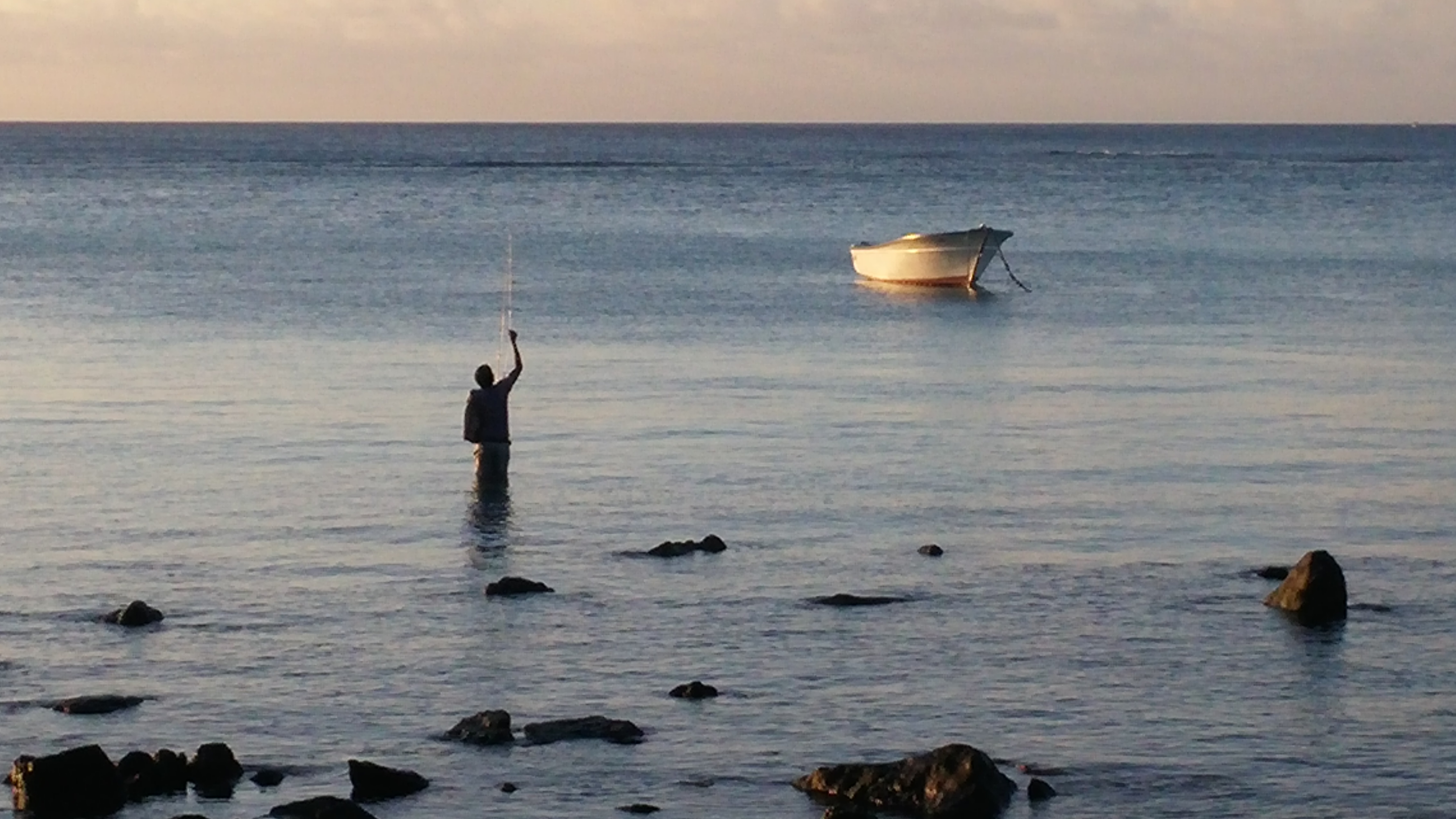 Romantic explorers' escape

TRIP HIGHLIGHTS
14 days in Mauritius
Cultural immersions
Stays in luxury eco-lodge and glamping tents
Cooking at a local's home
Waterfalls' discovery
Desert beach exploration
Artisanal wine tasting made of litchis
Ideal for couples
100% tailor-made
WHY THIS TRIP?
All experiences are led by local guides.
All accommodations we curated are committed to sustainability.
Your carbon footprint for this trip is fully compensated.
€10 from this trip is attributed to our A Trip for A Trip initiative to help a local child.
This trip has a fully flexible booking policy.
ABOUT THIS TRIP
Not the usual honeymoon in Mauritius travel agents designed 40 years ago; this is a culturally rich, adventurous immersion into the island's heart.
You'll learn the secrets from Creole cuisine by preparing a meal at a local's cozy home and hike down the lush trails that take you to hidden, magical waterfalls. A captivating beach trek will bring you to enjoy the most pristine beaches of Mauritius, while biking tours invite you to those winding roads wrapped in Mauritius' history of sailors, sugarcane, and rum.
All of this while making room for the special "Mr & Mrs" moments that every honeymoon should have.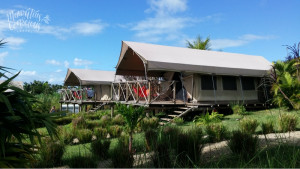 Day 1: Check-in at Otentic Eco-Tent Experience (14:00)
A glamping experience in the most eco-conscious and original way. Expect dry and cozy nights thanks to the well-equipped and elevated tents, and enjoy a detox, romantic stay away from everyone and everything. The tents here run with power & water provided from natural resources, and meals are 100% vegetarian, sourced from the organic garden.
Your stay includes daily breakfast, boat rides to Ile aux Cerfs, bikes & kayaks to explore the natural surroundings.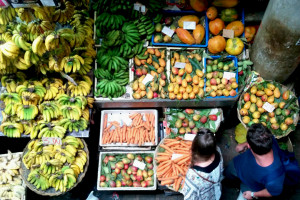 Day 2: Cooking a Mauritian meal at a local's home
You'll visit the weekly fresh market to handpick the ingredients you will cook with. A delicious curry preparation follows, filled with the aromas, talk and music that you can only experience in the kitchen of a Mauritian Creole.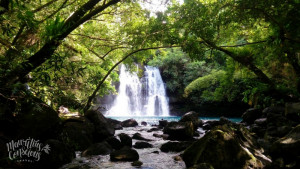 Day 3: Guided hike to the mystical Eau Bleu Waterfalls
Your local guide invites you to discover Eau Bleue Waterfalls in a private hike. This is a truly magical place at the south-east of Mauritius, where a set of 4 hidden waterfalls follow the river. The water is blue and bright as a pair of baby eyes, and the atmosphere filled with a special charm. Your guide will explain you about the tropical flora of the place and good swimmers are welcome to enjoy a refreshing jump in the main waterfall.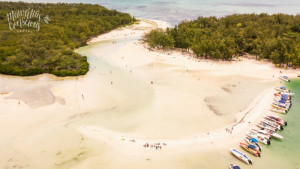 Day 4: Independent exploration
Take the early boat trip to visit Ile aux Cerfs; after a rewarding lunch, grab a kayak to visit the popular waterfall in Grand South-East River.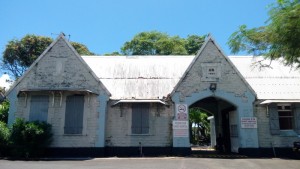 Day 5: A cultural immersion in a fishermen village
Welcome the wooden boats bringing the catch of the day, meet a fisherman knitting his bamboo net and discover the spiritual realities of Mauritius through its Hindu temples. To finish on a high note, Mauritian tea will be served in a very special place.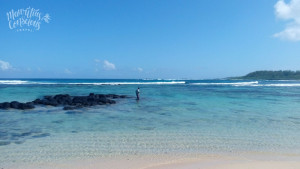 Day 6: Guided coastal trek to Pont Naturel & Le Souffleur
A slice of untouched heaven. Our guide will invite you for a beautiful coastal trek that will fascinate you with kilometres of unspoiled beaches and basaltic cliffs: the perfect balance between an adventurous and romantic escape. Your guide will walk you through the famous spots of Le Souffleur and Pont Naturel, passing through small forests and virgin beaches.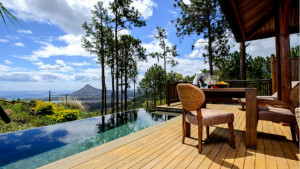 Day 7: Check-in at Lakaz Chamarel Exclusive Lodge (14:00)
Lakaz Chamarel is ideal for couples looking for a peaceful escape while enjoying the authenticity of Mauritius. Within its sanctuary, you will find your daily dose of morning yoga, sauna & massage, plus the loveliest views over the western lagoon. 3 daily shuttles can bring you to Le Morne beach.
Your stay includes daily breakfast and dinner, shuttle rides to Le Morne Beach, and bikes to explore the natural surroundings.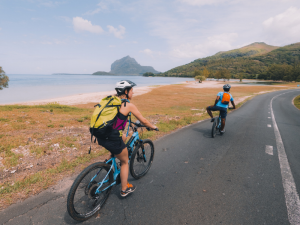 Day 8: Discovery of Chamarel on electric bikes
A round immersion into the lively village of Chamarel. Riding your electric bike you will visit an agricultural rum distillery and learn the process from sugarcane to spirit. Your local guide will take you through the Earth of 7 Colors and Chamarel Waterfall, and continue the ride towards the south coast, down the meandering Fantasie Road. Just in time for an energy intake you will arrive to a typical shack by the coast, where you'll be invited for a traditional lunch. Your comprehensive tour will end in the old sugar state of Bel Ombre.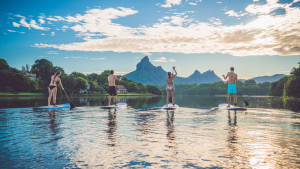 Day 9: Tamarin River cruise on stand up paddle
Discover the secret corners of the Tamarin River, it's flora and fauna, on a smooth and romantic sunset cruise during the Golden Hour. At the end of the excursion, your local guide will invite you for a drink on the lively beach to wave the sun goodbye.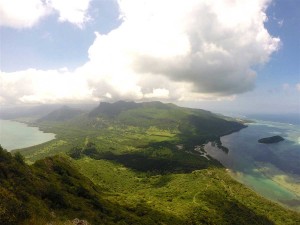 Day 10: Guided hike up Le Morne Brabant
The best way to admire the famous "underwater waterfall" from the heights, while experiencing Mauritius' history of freedom and sacrifice.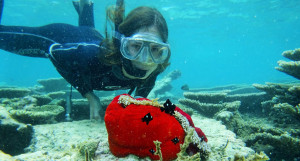 Day 11: Scuba Diving off the coast of Flic en Flac
Discover the underworld of Mauritius at its best with our eco-conscious friends. Our trusted diving center will teach you the basis of diving in a one-to-one session in our safe lagoon, and proceed with a magnificent exploration down to 15m deep close to the coral reef of Flic en Flac. Expect all shapes of corals, playful anemones and staring colorful fish. Includes diving insurance & equipment.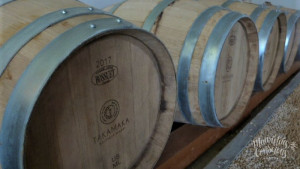 Day 12: Visit and enjoy our unique Mauritian wine
Road trip around the Black River Gorges & Grand Bassin, followed by an artisanal wine tasting
Somewhere between the West of the Sun and the East of the Moon, you will discover an artisanal winery. Learn the elaboration process during the visit and enjoy the tasting of our unique and organic Mauritian wine made of litchis.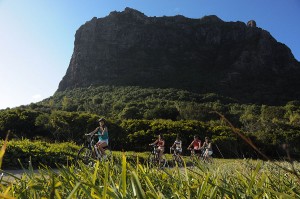 Day 13: Independent exploration
Snorkel at Pomponette Beach and enjoy the sunset at Macondé viewpoint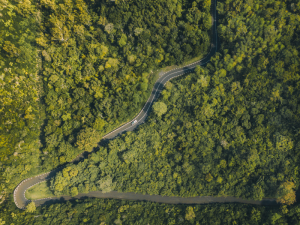 Day 14: Departure from Mauritius
Check-out from Lakaz Chamarel (12:00)