Island hopping between Mauritius and Rodrigues
Island hopping between Mauritius and Rodrigues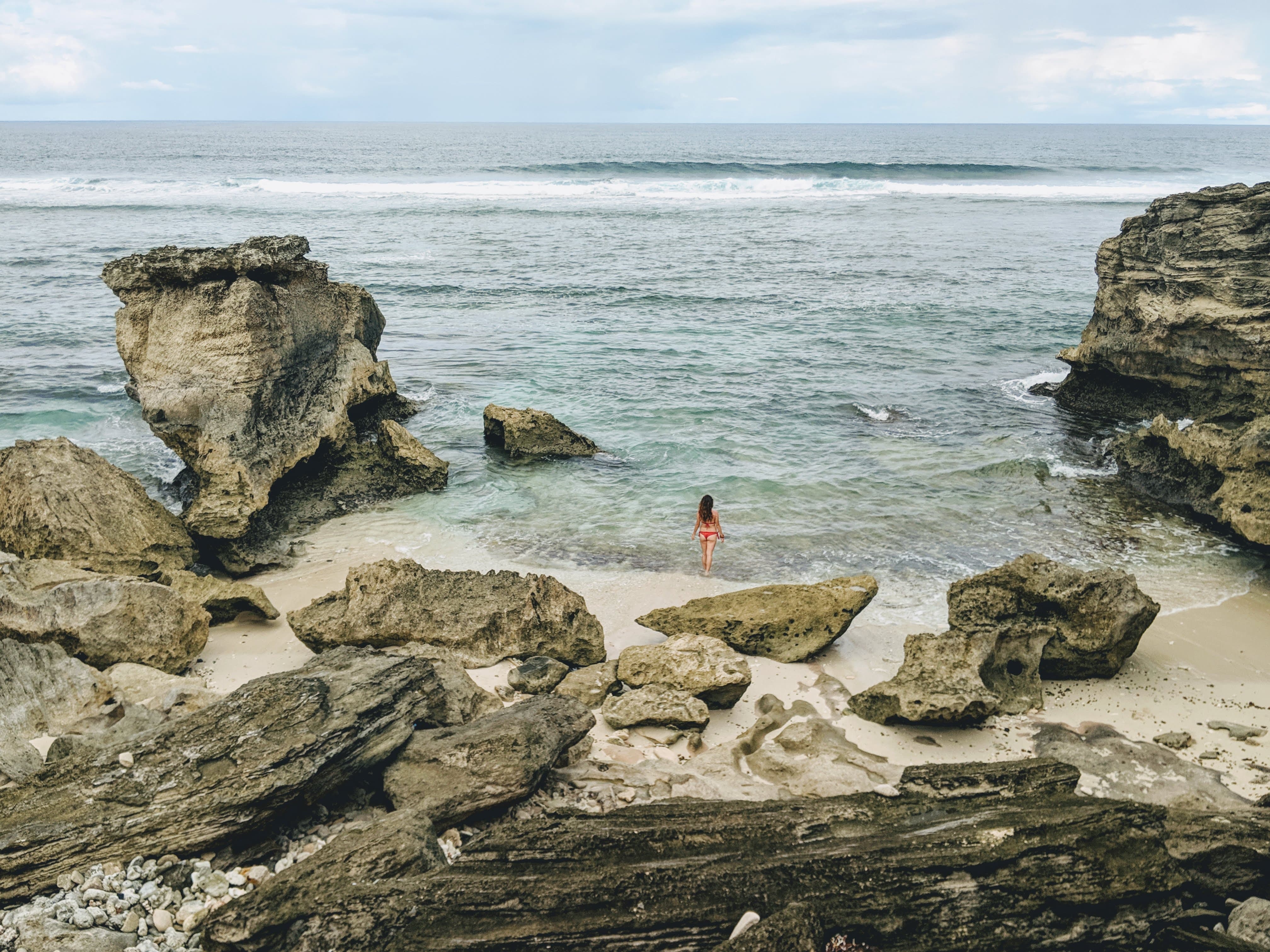 Island hopping in the Indian Ocean:
Mauritius & Rodrigues
12 days | Beach, adventure and gastronomy
Trip highlights:
100% of your trip's revenue is directed to small, local businesses promoting sustainable living.
You'll discover our traditional gastronomy through your Lodges' kitchens, run by local chefs who support organic agriculture
You'll hike to mesmerizing viewpoints on mountains, waterfalls and coastal  trails, while helping us pick-up litter with your My Green Trip kit.
Throughout your trip, you will learn about:

Mauritian eclectic history and culture, through a street-food tour.
The basics of Permaculture and a simple, minimalistic lifestyle.
Mauritius exotic flora and fauna .
The whole CO2 footprint of your trip will be offset through Mauritius Conscious'

Go CO2 Neutral!

initiative.
YOUR TAILOR-MADE TRIP
AS FROM:
€1,785 pp
Excluding flights
Let's talk!
English, French, Spanish
Trip description:
Jump for a culturally-rich, adventurous immersion through Mauritius & Rodrigues Island. You'll learn the secrets of Creole cuisine by preparing a meal at a local's cozy home and, hike down the lush trails that take you to hidden, stunning waterfalls. A coastal trek through the East coast of Rodrigues will bring you to discover spectacular virgin beaches, making you feel among the first sailors to discover this pristine island. The secrets of the turquoise Indian Ocean and its colorful coral reef will reveal on a traditional sailing trip…
What's included:
7 nights in Mauritius and 5 nights in Rodrigues (Private Rooms)

Mountain chalet – Guest House – Guest House – Boutique Hotel
8 days car rental in Mauritius and all transfers in Rodrigues

3 insurances (passengers, vehicle & it's parts)
All breakfasts, 9 dinners and 2 lunches

Vegan & organic options available
Activities with local hosts

Hiking,  permaculture + cooking lesson,  abseiling waterfalls,
litchi wine tasting,  sailing + snorkel,  street-food tour,  sea-kayaking
Compensation of the CO2 footprint of your trip (learn more)

International & domestic flights, land transportation & accommodation
We had a great time in Mauritius, thanks to Romina, who is one of the few travel agents that actually really care about the well being of their clients. (And also about the well being of the island itself.) She is also incredibly fast with organizing things last minute. And thanks to our hiking guide JB, a great and big hearted guy, with so much knowledge and so much humour.
So if you want to travel in Mauritius, contact Mauritius Conscious, you won't regret it. That's quite impossible.
Thomas Beijer - The Netherlands
I had a mixed bag of travelers, I.e An adventure lover, a young kid, a teenager and a safety conscious lady. To have a wonderful vacation covering the interests of all members was a challenge in itself. But, Mauritius Conscious ensured that the itinerary was designed with absolute perfection so that everybody's priorities were addressed. On top of it, it was a very professional yet flexible service that made the experience even more exciting!
Mukund Krishnamurthy - Dubai
We had an awesome experience with Mauritius Conscious! A highlight was when we explored a family's organic farm where we got to pick all the fruits and vegetables that we subsequently cooked and ate with the couple. They grew the most delicious fruits (and they sent us home with beautiful passion fruits!!) Every tour we went on introduced us to new layers of Mauritian history and culture.
Sandra Carbonell - California, USA
From the first moment we reached out to Mauritius Conscious it was a pure pleasure. Romina contacted us directly via WhatsApp which was super convenient. We had a couple of nice chats and she arranged everything according to our wishes and situation. Since we were traveling with a 1-year old the accommodations were superb so were the activities we did. The hike to Le Morne is a definite must and the guided family walk through Bras d'eau was super interesting, we really learned a lot. Finally we got to know Romina in person and went for a sundowner at the rooftop terrace in the Mystik hotel which rounded up the whole experience.
Double thumbs up and good luck for the future. Thanks a lot for everything!
Stephan Powilat - Germany
Thanks to Romina we could make the most of our little time on Mauritius! She went with us through every detail and listened to all our needs to make our holiday spot on, letting us get to know the authentic side Island being conscious of its environment and inhabitants. Couldn't have asked for more!!
Alice Burton - Australia
My sister and I had the chance to spend two weeks exploring the Island with Mauritius Conscious and we truly appreciated the experience. Each activity we did was lead by one or two local guides that provided us with very fascinating information about the place, its tradition, culture and people. Through them, we got to become closer to Mauritians and discovered the country from the inside out. We got to explore the ocean (diving and sea kayaking), the mountains and sugar cane fields (mountain and e-bike), and the local places and villages (guided visit of Poudre d'Or). All of it was a truly unique experience that we would recommend!
Amelie Sterchi - Switzerland