This is the story of local resident Jason Delorie and his engagement proposal weekend we tailor-made for him.
The below story is part of our #LocalExplorers series where we asked our frequent local guests to share their local getaways experience with us.
She said YES… with a little help from the team at Mauritius Conscious. 
As I lower myself onto one knee. I felt my heart quickening the sound of my pulse, almost deafening in my ears. I look up into her eyes and see the realisation of what's happening slowly show on her face, the words I have practiced a thousand times, telling her how much I love her, and how I want to spend the rest of my life trying to give her the happiness she deserves, gets momentarily stuck in my throat. My voice is dry and quivering as I ask the love of my life to marry me.
After what seems like an eternity, with tears streaming down both our eyes, she utters the words I've been longing for:
– Yes, I will!
I remember when I approached Mauritius Conscious with my vision of the perfect engagement weekend. Uttering the words: "I'm sorry I'm going to be the worst customer you have ever had."
A dream engagement proposal on a deserted island
As I stood to kiss her, an emotional and physical tension, I didn't even know I had, released. I look around at our deserted island. The rhythm of the waves slowly crashing onto our secluded little beach. I popped a bottle of Champagne as two Paille-en-Queue birds flew overhead. There was no one around for miles and the thought crosses my mind that this day was better than I could have ever imagined. 
My dream became a reality and it's so much better than I could have ever imagined. The months of stress and planning all melt away. And as a self-confessed, hopeless romantic, there has been a lot of meticulous planning and stress. 
I remember when I approached Mauritius Conscious with my vision of the perfect engagement weekend. Uttering the words. "I'm sorry I'm going to be the worst customer you have ever had." I knew exactly what I wanted, how I wanted it. I think I knew I found the right partner when Romina, the founder of Mauritius Conscious replied "we love a challenge". She listened attentively as I described my detailed near impossible vision with enthusiasm and an understanding that calmed my nerves. 
A Local Getaway in the South East of Mauritius.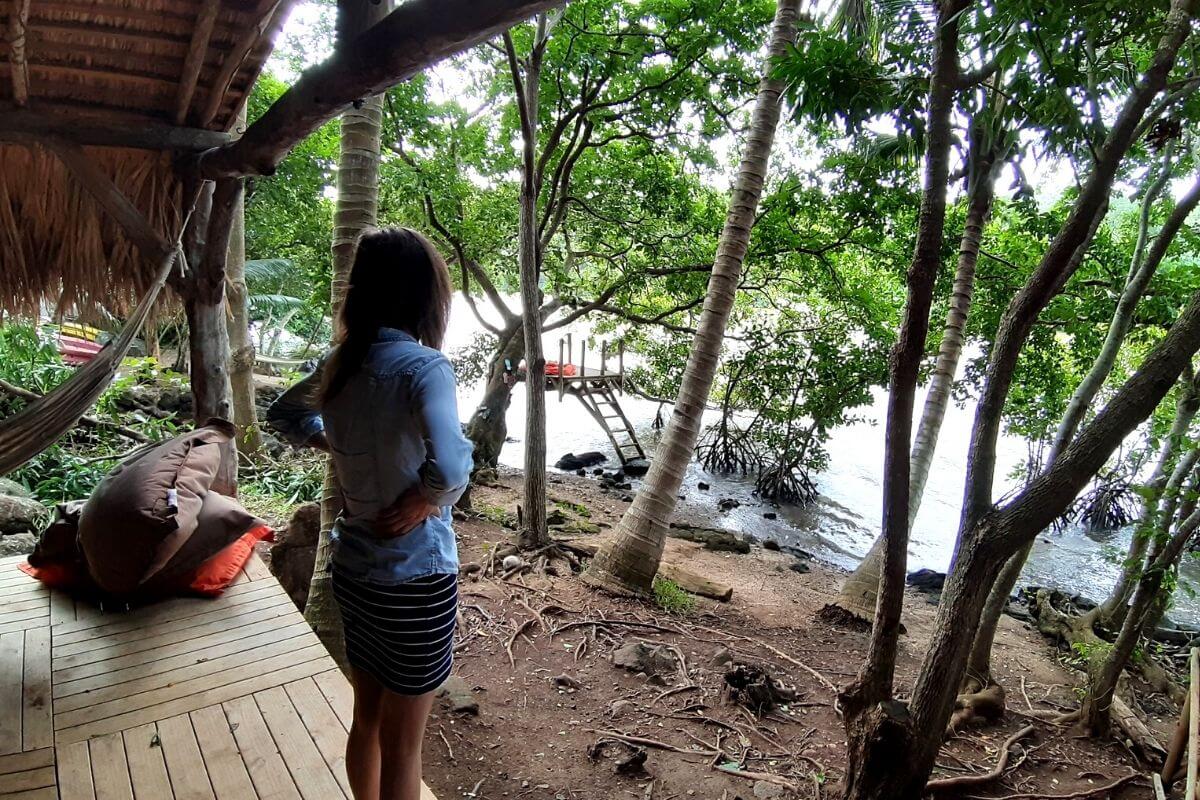 After Mauritius Conscious proposed several options, I chose the one that will forever be etched in my memory. The weekend starts in the early morning with a drive to the South East of Mauritius, under the guise of us celebrating her birthday. The weather starts to turn with the warning of the possibility of a cyclone approaching. Every bout of rain on the windshield threatens to dampen my spirit. Today is the day that we are supposed to embark on a boat trip that will change our lives. If it were not for a simple text received from Mauritius Conscious' team at the dead of night, I'm not sure I could have held back my disappointment and frustration all against the weather.  
The text warned about the weather and made arrangements to postpone the boat trip until the next day. They ensured we could check-in early if needed and reassured me that everything was being taken care of.  
We arrived in the South East and checked-in early to our luxury tented camp. The worries of the day slowly faded away as we indulged in authentic local hospitality, being made to feel welcome, a sense of ease, and homeliness. The tent and the whole place have an authentic charm, seldom found. This is special.  We enjoyed the serenity and peacefulness of nature. Suspended over the river on a platform in a tree, the hours drifted away.  
After a delicious Mauritian dinner and a few drinks, we retired to our tent. I can hardly fall asleep with the excitement knowing that tomorrow is a GO, after receiving confirmation and weather reports from Mauritius Conscious. 
I wake up early the next day with a childish excitement, only comparable to Christmas morning, I pack our bags for the "hike" that she thinks we're going on, taking extra care with a ring that I've nestled in her favourite seashell. I've checked it a thousand times and will cheque it a thousand more before I kneel.  
Our Private Sailing Tour
The drive to our pick up point for our private sailing tour passes in a blink of an eye. We introduced ourselves to our captain – Arminio, who was waiting for us on the jetty. Our first stop, a snorkeling spot just off Ile aux Aigrettes. The sea had an abundance of colourful tropical fish and corals, and the Captain's knowledge of the tides and currents were so accurate he was able to predict exactly when and where we were going to come up for breathing every time. We climb back on board our sailboat and dry off.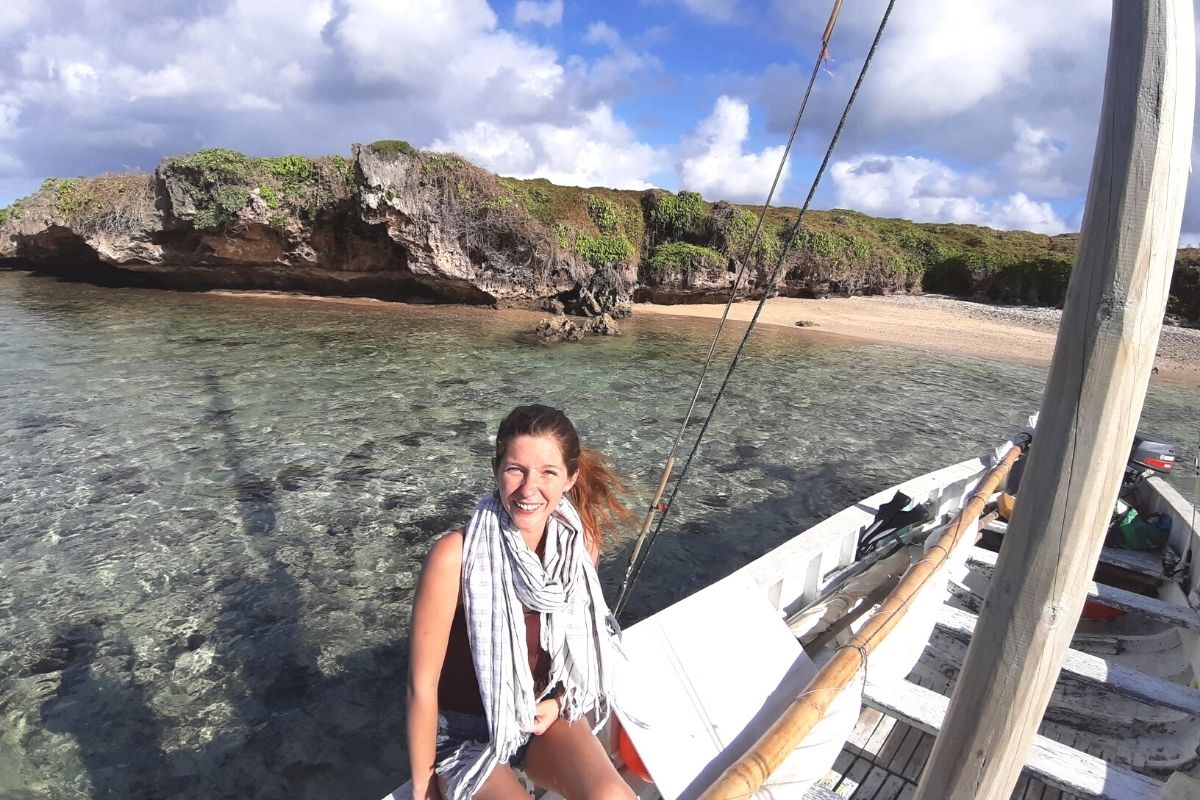 The captain began to tell us his story, reminiscent of how he used to live on the island as a young boy with his father, the Watch of the islet.  
The next leg of our trip starts a 40 minutes sail to the next secret spot. I brought out my fishing rod to pass the time and it seems to be my lucky day or more likely the skill of the captain's routing. We caught and released a few fish, keeping the biggest and best for lunch. This distraction did wonders to help keep my nerves in check.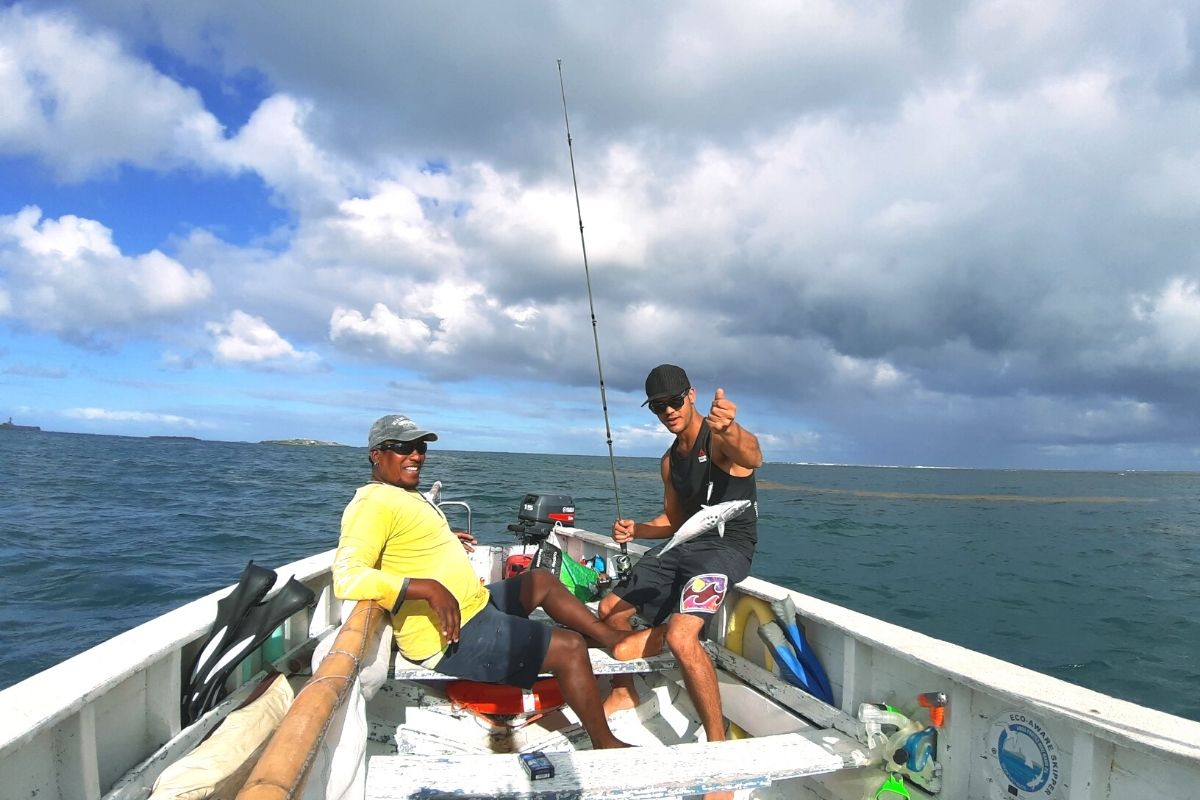 Our sail started to slow and the captain gave us the signal to get ready to dive in. I'm unsure how he even knows where we were, but dove in nonetheless, trusting his knowledge. 
As we splash in, we are greeted with an explosion of abundance and colourful life. I released a muffled sound of amazement through my snorkel replicated by my soon to be fiancé as she does the same. It's the best, most diverse snorkeling spot I've ever seen. Beautiful vibrant healthy coral, a range of fish too large to count and live sea anemones. We circled the corals and enjoyed that amazing scene a few times before making our way to the surface.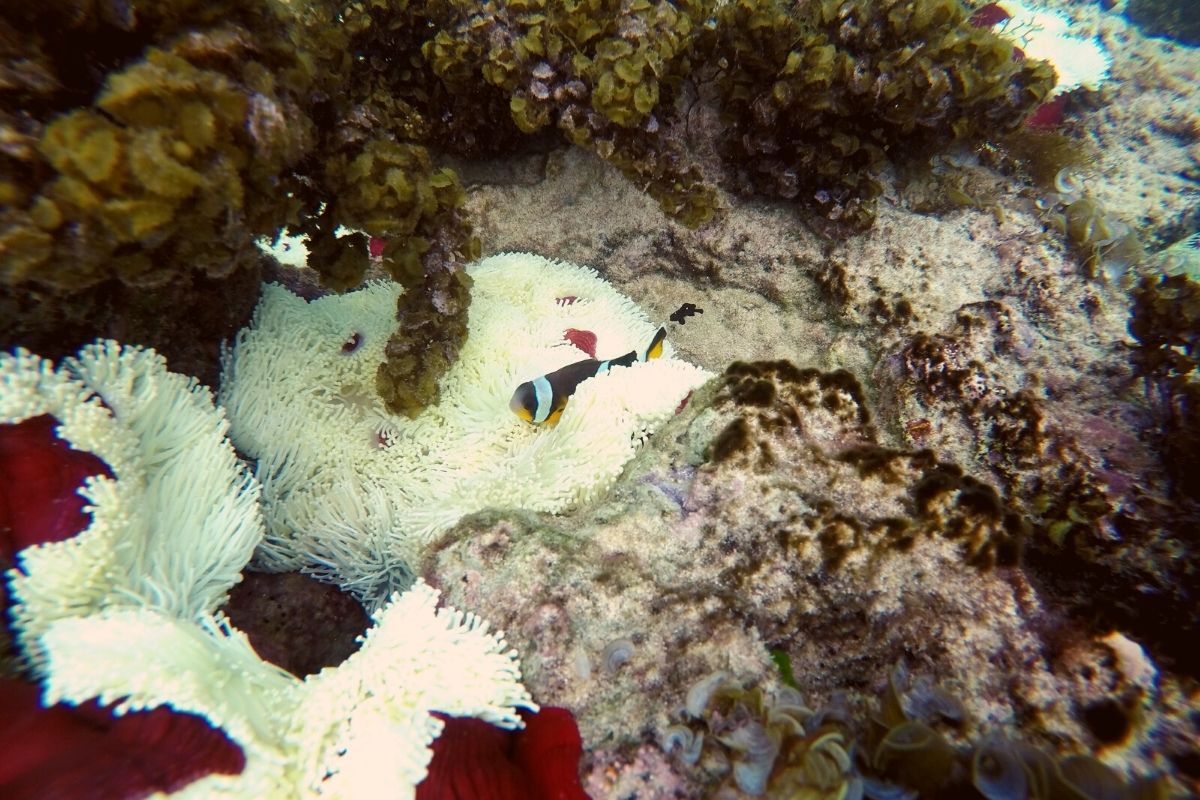 On to the next stop, the captain calls. We head on to visit two islands. The first, Ile de La Passe, to explore the beauty of the ruins. The second, the famous Ile aux Phares. Taking a moment to appreciate the power of the ocean as we get back on the boat, our hunger grows and we were happy to hear that we will be having lunch at our next stop.
My heart skipped a beat. I know what this means. I had been so caught up enjoying the day I had almost forgotten. We approach our deserted island with the sound of the small beach calling to us. It's paradise, the boat, beaches, and captain encouraged us to take a walk around and explore as he prepares our lunch. Lobster and freshly caught fish. We set up our picnic with a view that is priceless, almost to die for as the captain serves us and we taste the freshness of the ocean with a glass of wine in hand. The captain makes his way back to the sailboat and slowly disappears into the distance as we finish our meal. We are alone on Paradise Island and I know it's time…
 I thank Mauritius Conscious from the bottom of my heart for giving us the experience and memory of a lifetime. Their ability to listen and tailor the trip to my exacting requests was no small feat. 
But that's not just what made it so special, or memorable, I was humbled and touched. To have never felt so close so connected to the very fabric of Mauritius, its people, its culture, and its natural beauty, Mauritius Conscious approach everything they do with respect and understanding. – Jason Delorie. 
If you too you would like to plan a special lifetime event, be it an engagement proposal or just a very special getaway in the Indian Ocean, reach out to our team at hello@mauritiusconscious.com or schedule a call back   from us. We will be delighted to cratf your special moment.
Please follow and like us: