A Weekend Hike At Cascade 500 pieds to Unwind From the Work Week.
The below story is part of our #LocalExplorers series where we asked our frequent local guests to share their getaways and explorations of Mauritius experience with us.
Here is the story of Raj Gujadhur, a local nature lover living in Quatres Bornes.
I deeply resent waking up early on a weekend. Well, not just on a weekend. I resent waking up too early on any given day. You could say that I'm a night owl.
The one exception I do make, however, is waking up far too early to go hiking. Now that is something that can balance out the resentment, something to really look forward to. A new hike! And somewhat rarely for Mauritius, one that does not involve trekking up a mountain. Cascade 500 Pieds (literally '500 feet waterfall'). Never been, should be interesting. I love the deeper south-west of the island, it's relatively unspoiled and the scenery is fantastic. I expect frolic at the pools at the bottom of a waterfall, always a fun time.   
That was the plan for a Saturday morning in late February. Late Feb being, of course, pretty much the middle of summer in Mauritius, meaning you want to set off (too) early because you don't really want to be traipsing around under the hot midday sun. 
Meeting Point: Alexandra Falls Parking
So I wake up, grab the bag, grab some trail mix, some extra water, and off. We set out, various crews carpooling from various parts of the island in order to meet up at the Alexandra Falls parking. It's a beautiful sunny day, and already getting warm in the car when we leave. Yet half an hour later, as we pass the Mare aux Vacoas reservoir, you can feel the temperature dropping by a few degrees. A consequence of the higher altitude, and not cutting down every single tree in sight, I suppose. We need trees, people!
We get there first since we live closest. The parking is massive but we are the only ones there, for now, the Alexandra Falls being very popular with tourists throughout the day. A couple of minutes waiting, and suddenly everyone is here! Hugs are exchanged, it's always nice to have the full crew out for a hike. That makes a cozy ten of us. We had been all been camping on a beach down south a few weeks prior, so a bit to catch up on.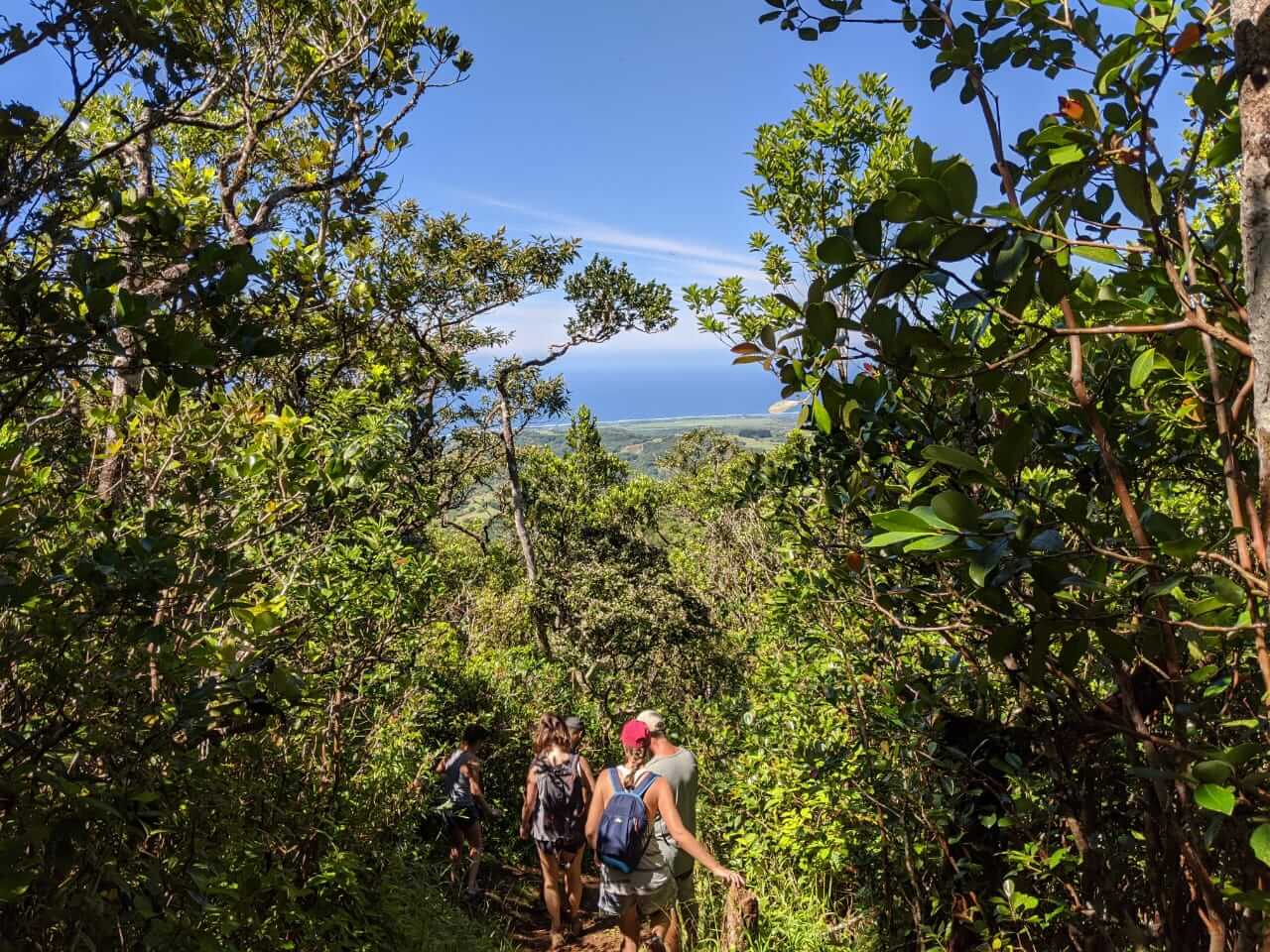 Just about 200 metres out of the parking, we start walking down the trail. It must have rained overnight, there is some mud, plus a few puddles here and there and so you have to watch your step. You don't want to get your socks wet this early. Starting to go downhill now, we have to use the strawberry guava tree branches to balance ourselves on the way, a constant on every hike. These guava trees are not endemic to Mauritius but have long since taken over the forests. At least they provide some very sturdy offshoots. I tell myself that the walk back will be fun, pretty much all uphill.
The Magnificent Views over the South
From time to time, we are offered a majestic view through a window in the otherwise dense trees. You can already see the southern villages and beaches way down afar opening out to the sea, we are a good 2,000 feet or so above sea level after all.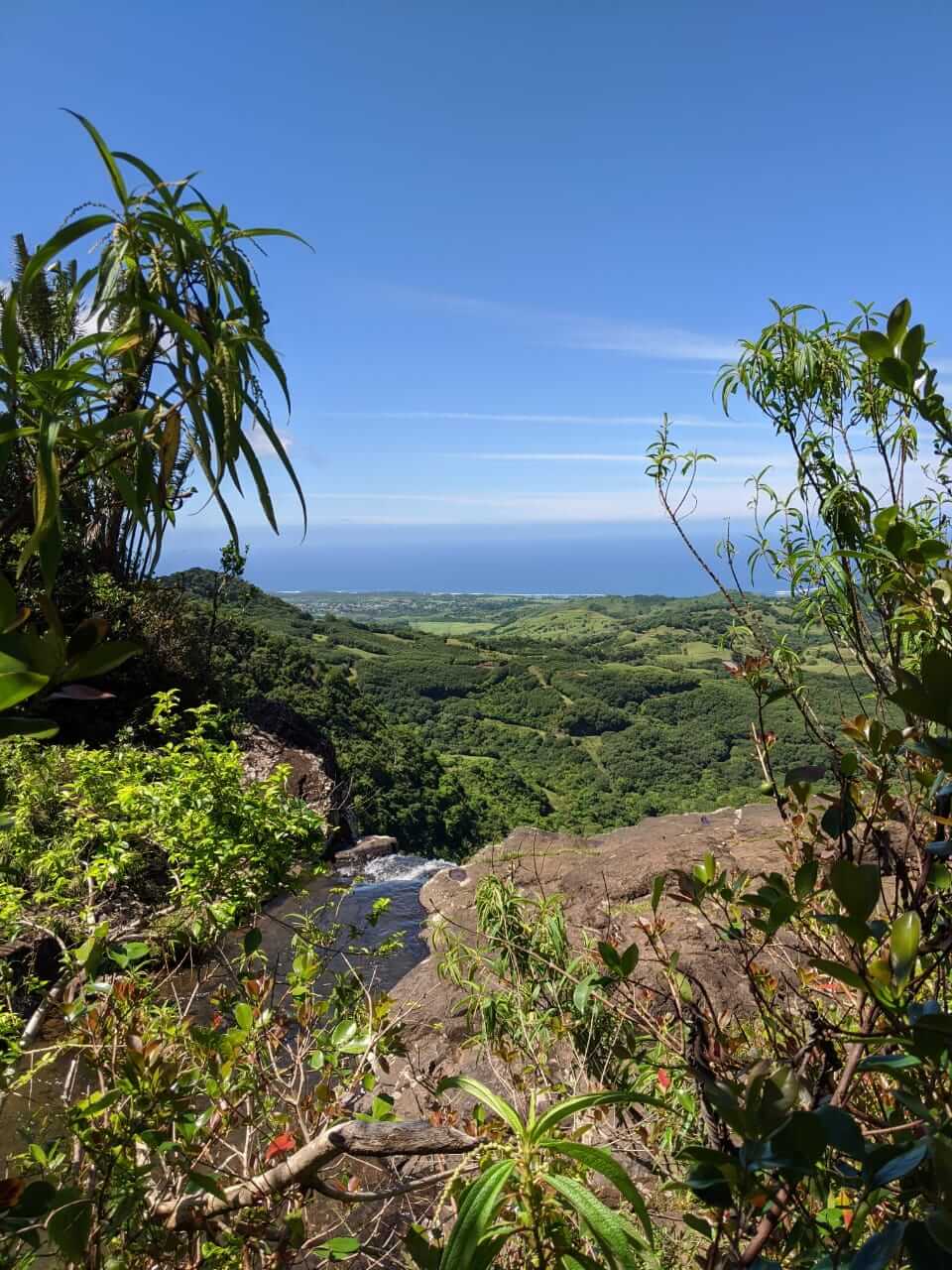 After about twenty minutes of trekking downhill, we arrive at a stream, take a quick break settled around the rocks, and carry on. Less than ten minutes after that, I hear "we're here!". What? How? Already?? I'm pretty sure we haven't descended that far, the walk wasn't that steep. And surely a 500 feet waterfall would be making a tremendous noise. I cannot hear anything yet.
We walk ahead, and suddenly the trees clear. And that is when I realise we were never going to swim at the bottom of the fall. Our jaws drop. We are in effect standing right at the top of the waterfall. What we are looking at is a natural infinity pool, formed by a large semi-circle of rocks opening up and letting the pooled water cascade 500 feet below. We let go of our bags and inch towards the edge to take a peek. My goodness, that is a SHEER drop.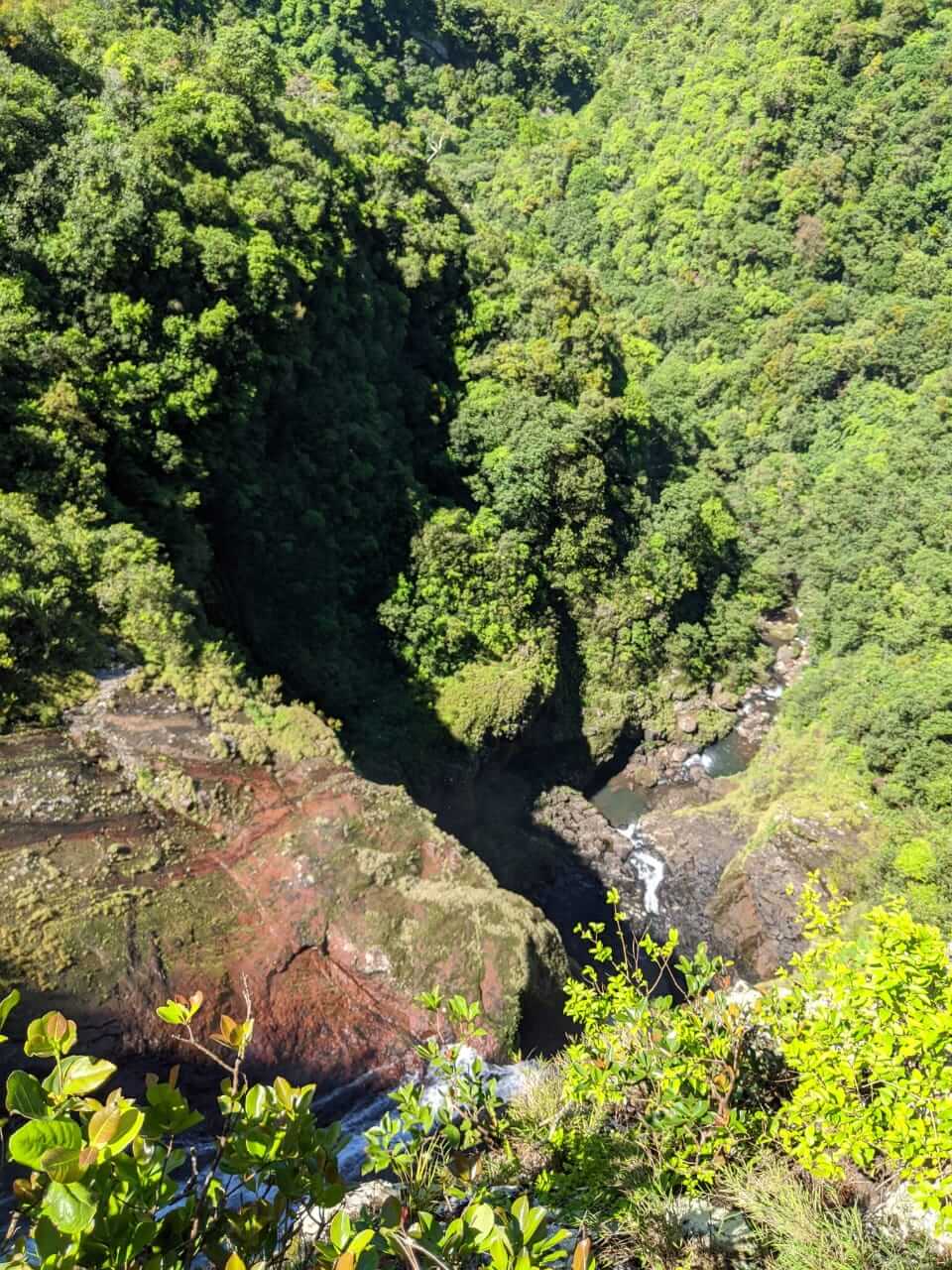 The view is utterly spectacular. This is an entire stretch of the south coast before us. A giant expanse of undulating and lush forestry, barely interrupted up to the coast and the big blue sea, all below the azure sky. Wonderful. And directly below us, nothing. Or almost nothing. Peering over the edge, you can see the giant waterfall rushing, smashing, snaking its way down towards its eventual journey into the sea, crashing on various levels along the way. Simple words cannot adequately describe what we see before us. As the Vietnam veteran trope goes, you just had to be there man.
A Short and Sweet Hike
We sit along the edge, legs dangling, and take it all in. After a while, some of us go further in around the edge, trying to get a better view of the fall and where the overhang actually ends. Mostly, we bask in the sunlight, soaking up the rays and enjoying the view. Whenever the wind blows, the spray from the fall turns back towards us, sprinkling us in mist. Very refreshing.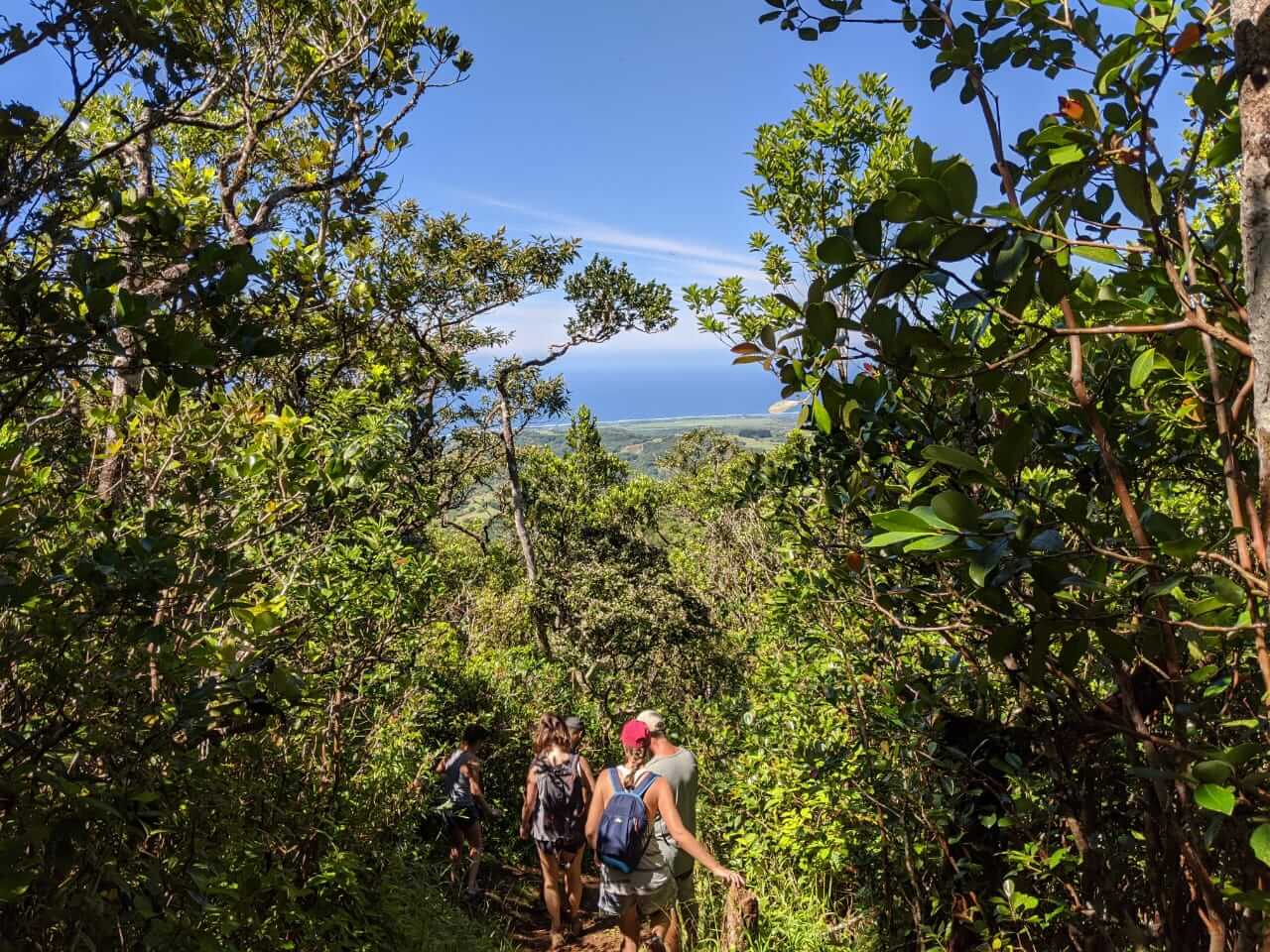 Thoroughly baked by the sun, it's time for a swim. After all, there is a perfect natural infinity pool just waiting for us. It would be rude not to, and of course those who weren't already in their swimming gear had them packed. The water was clear, and ice cold. It is just what we need. 
Sitting there in the water, gazing at this vista and out to the sea, watching the Paille en Queue (the national bird) gracefully coursing through the air, I think to myself that I am so very lucky to be living on this island. After a long week of work, how amazing it is to simply be able to escape into nature. To get away from the office, the concrete, the noise, the traffic. Simply let all the stress of daily life melt away. All of this scenery is always so near, but it is so easy to forget that. Everyone should have the chance to enjoy this. It's good for the soul. 
But this is why we hike. We let go of ourselves into nature and come back to our natural selves, relying on only our bodies and our minds to get through that forest, to climb that steep incline, to conquer that peak. To be able to enjoy this with some of your closest friends just makes it that extra special. 
After we got out of the water we just lounged around on the rocks for a while. Snacks were passed around, including banana bread (always a winner on a trek). Just sitting there, chatting and enjoying the weather. 
Unfortunately, all good things must come to an end. We packed up our gear, cleaned up after ourselves (and others before us, how can people just leave their plastic bottles and such behind?) and started the walk back up. While travelling back we met a few groups of people who had also come to enjoy the spot at the top of the waterfall, and which we naturally guided them towards. It wasn't the easiest walk back (what goes down must come up?) but we powered through and reached the trail entrance. Just before we did, a lady strolling down memorably asked us "is it this steep all the way through?", and when we replied that yes it was, pretty much, she just turned around without the rest of her companions and made a gesture that said ciao guys, I'm out of here. Oh well, she was in flip flops so we did understand her reaction. 
We reached the parking, which was much fuller with private cars, vans and tour buses by this time. We took a quick detour via the Black River Gorges viewpoint, because why not? It's also a superb view and we were just five minutes around the corner. And there are cheeky monkeys there. After that, we decided to drive back via Chamarel and its twisting and turning roads, go up the west coast and grab some lunch towards Tamarin beach.
 As expected on a hot summer Saturday, the beach was packed by the time we reached, we finally managed to find parking spots but then it turned out no one could agree on what to eat, which is how we ended up with a selection of mine bouilli, boullettes, hot dogs, fries and… pizza. Post lunch, we decided to call it a day and go our separate ways, we were all full and in that fuzzy, post-hike state of mind. 
All in all, it was a brilliant day, and worth waking up for. The hike itself was relatively short, but it did lead us to a wonderful little spot.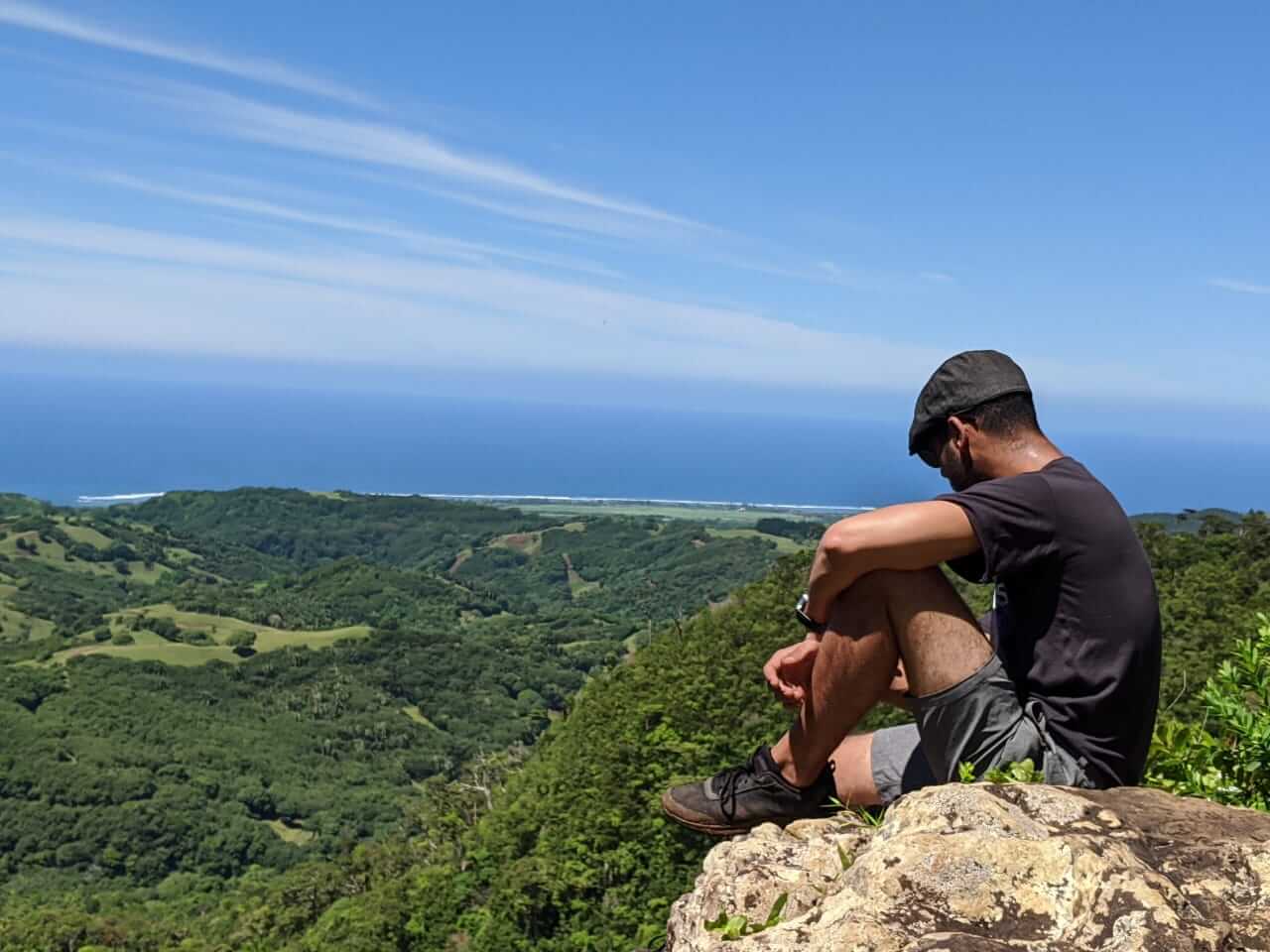 Even though I have lived on the island for most of my life and think I know all about the place, I keep discovering these amazing places, hidden gems and experiences. If you would like to spend a day out hiking or simply to stumble on a side of Mauritius you did not know about, do yourself a favour and look up Mauritius Conscious.  They know what they are doing, are dedicated to it and will give you the opportunity to discover things differently, rather than just another package hotel stay.  
-Raj Gujadhur.
Please follow and like us:
Comments
comments