Adventure escape to Reunion Island:
Min and Alam
Globe trotters, innovators and Mauritius Conscious' first guests traveling to Reunion Island. Min and Alam reminded us the value of staying at real people's homes; sharing, learning and connecting deeply with local people is what makes every trip unique on its own. Reunion Island pops into our minds with breathtaking landscapes and outdoor sports but – have you thought of the guys preparing a cozy bed and a heart-warming meal after your adventures? Read on to find more about Min and Alam's trip highlights and their trips for future travelers in La Reunion.
Tell us briefly where are you originally from and about your traveling style
Min: Singapore. Alam: USA
Since we live in Mauritius, we usually stay in resorts for a weekend. When we travel abroad, we conduct extensive research online and enjoy planning our own trips; Min used to couch-surf before Airbnb, and enjoy meeting locals on our travels.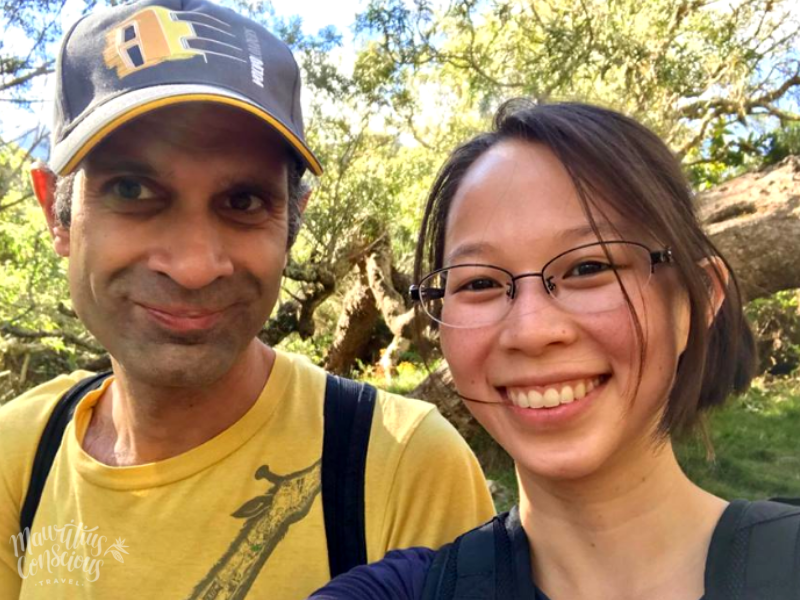 What attracted you to travel to Reunion Island?
The fact that it's 45 minutes from Mauritius makes for a great and quick getaway destination. Having a good friend from Reunion was a big draw as well; hearing about the amazing hikes and nature and, of course, the active volcano!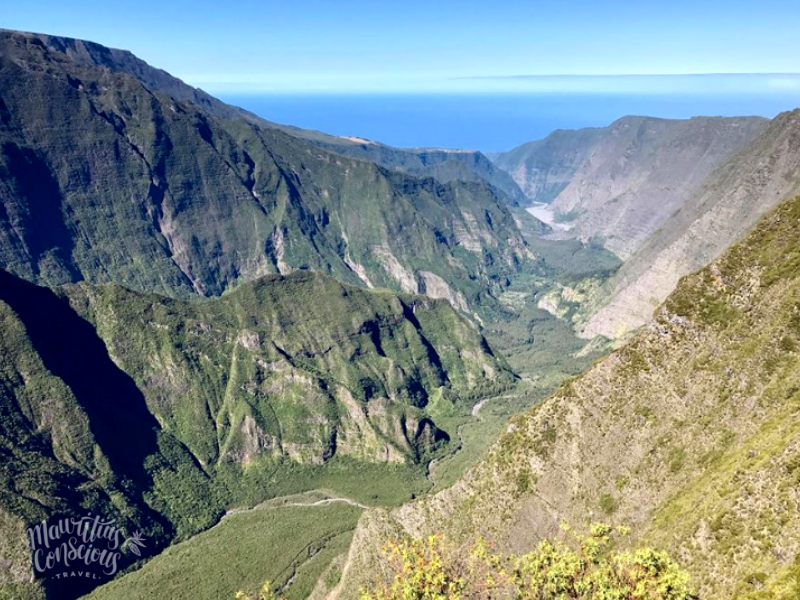 Why did you choose to organize your adventure holiday with Mauritius Conscious?
We were tired of resort experiences and were intrigued about traveling while participating in the local culture and helping to protect the environment. It was also difficult to plan a trip to Reunion as we could not estimate distances, and we were so caught up with work. We also love supporting conscious businesses, so Mauritius Conscious was the perfect go-to to plan this trip.
Tell us what your time in Reunion Island was about. What was the most memorable or exciting part of your holiday?
Meeting our awesome host Bernard, who is quite an innovator at heart. He is always looking at new techniques and ideas, hosts regular classes to teach other farmers what he learns, and also ran classes for children to see where their food comes from. In his words "If we have a generation of kids who only use what they need, and don't waste or take what they don't need, we would have a much better world"
The hike to Mafate in the dark! We ended up arriving at our trailhead so late that we did half the hike down to Mafate in the dark. It was a little scary hiking with our iPhones, and when Alam shone on a pair of eyes (!). Today this story makes for one of our funniest memories though.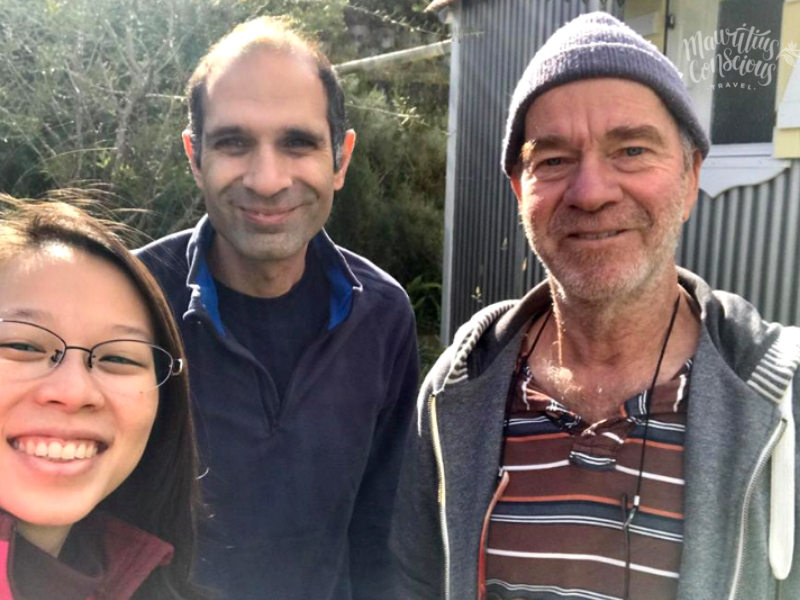 Hanging out with Marie, our Mauritius Conscious' hostess, who is as fast as a helicopter. We can't believe she ran down the hiking trail in one third the time we took, to join us for breakfast the next day. We learnt a lot about Reunion culture, economy, politics, and how there's a growing startup scene of very exciting biotech companies as part of FrenchTech.
Having dinner prepared by our host Christopher, who turned out to be a professional French chef and great dinner party host. Watching him cook in the open kitchen was really inspiring. He also has personal relationships with deep sea fishermen. We had some of the best food in Reunion here!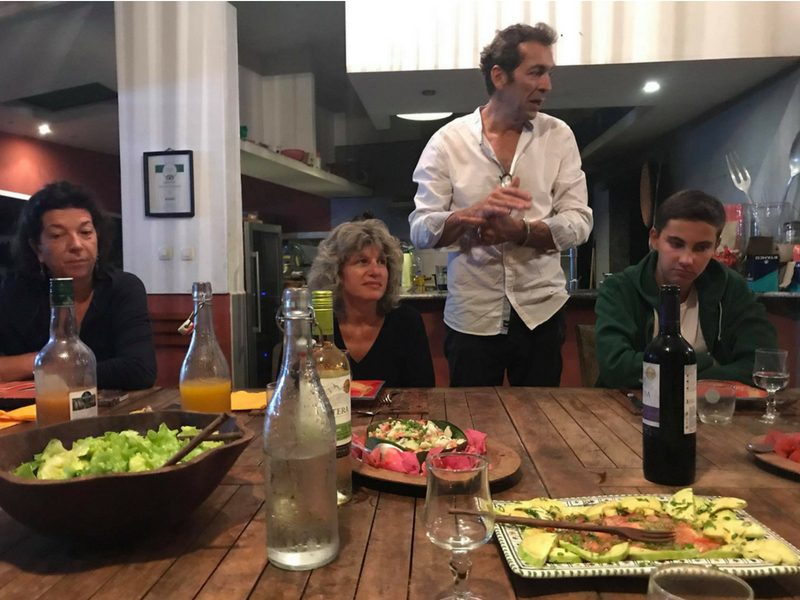 Did you feel that your holiday benefited local people, reduced environmental impacts or supported conservation?
Definitely yes. Bernard impressed us with his motto of consuming only what was necessary. We felt that same attitude all throughout our trip. His guest house counts with an organic farm and about a hundred hens, that provided fresh eggs for breakfast daily! His home-made wind turbine and solar panels generate one third of the energy consumed.
We felt great joy sitting at communal tables with local people, and sharing in their stories. This was a change from the lonely resort experience. We dined with a newspaper delivery man, a nurse, holiday makers, and other locals from Reunion.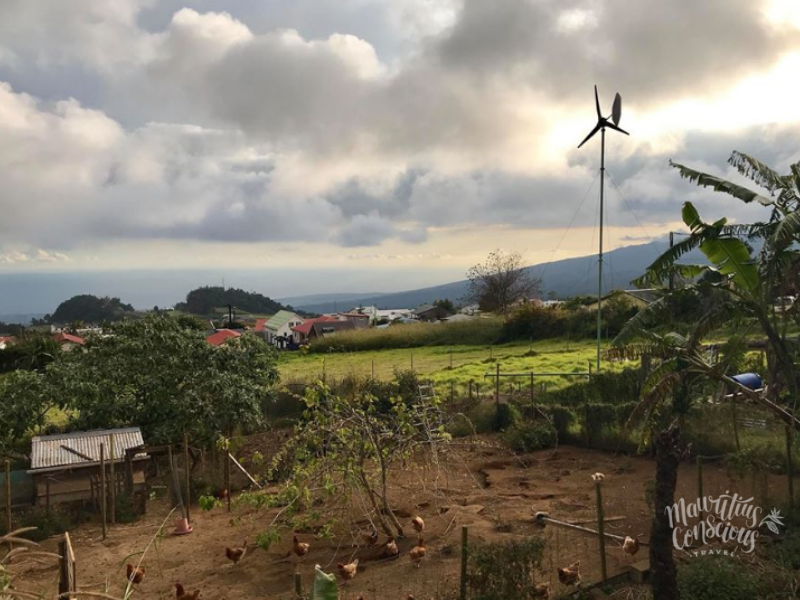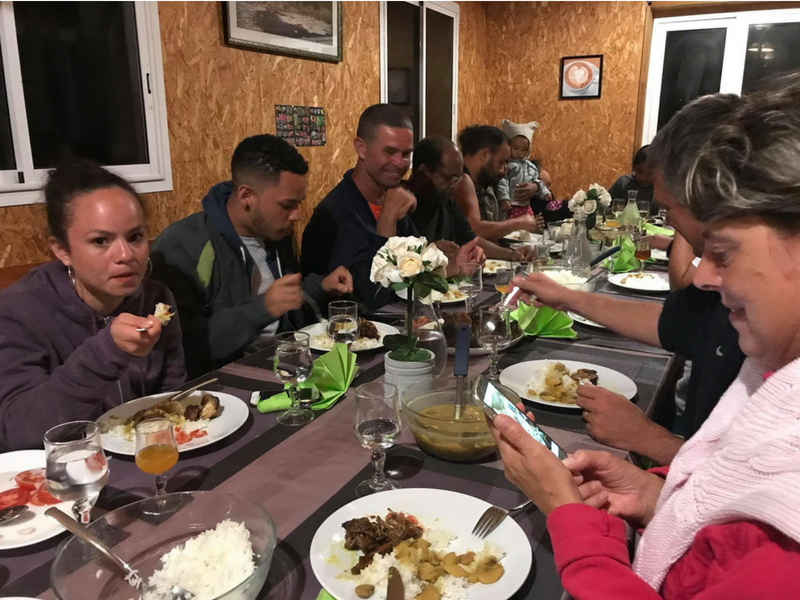 Finally, what tips would you give to other travelers booking this kind of holiday?
Learn a little French before your trip. It will go a long way!

First stop at Decathlon to get hiking and outdoors gear – there is so much choice!

You will need to cover large distances, as Reunion is mountainous; be prepared to drive.

A tip for those flying from MU: Get seats on the right of the plane when flying to Reunion, and left when flying back to Mauritius (we landed in St. Pierre's airport).
Finally, what is one thing you would add to your trip to make it more interesting / pleasant / easy to navigate / unforgettable?
We are extremely satisfied. Probably stay more than one night at La Plaine des Cafres as we didn't have time to check out the forests nearby.
In search of your own, authentic adventure?
Let's tailor-make it to your dreams and needs!
Please follow and like us:
Comments
comments