Discovering the Tamarind Falls with ropes and harnesses
As you may know by now, the Tamarin Falls, also known as 7 Cascades, are one of our unbeatable must-dos while in Mauritius; simply because of the deep immersion into the island's wild and lush nature that people seldom evokes when they think of "Mauritius".
The possibilities to discover the set of (more than) 7 Waterfalls are vast, ranging from medium level hikes to high intensity, full-day ones. Depending on your thirst for adventure you could either hike up the so called "Death Walls" or abseil down to its plunge pools. Right, abseiling Mauritius waterfalls of up to 55 meters high. We get a lot of questions regarding safety and intensity level so, we thought of writing this detailed article on the whole experience for you.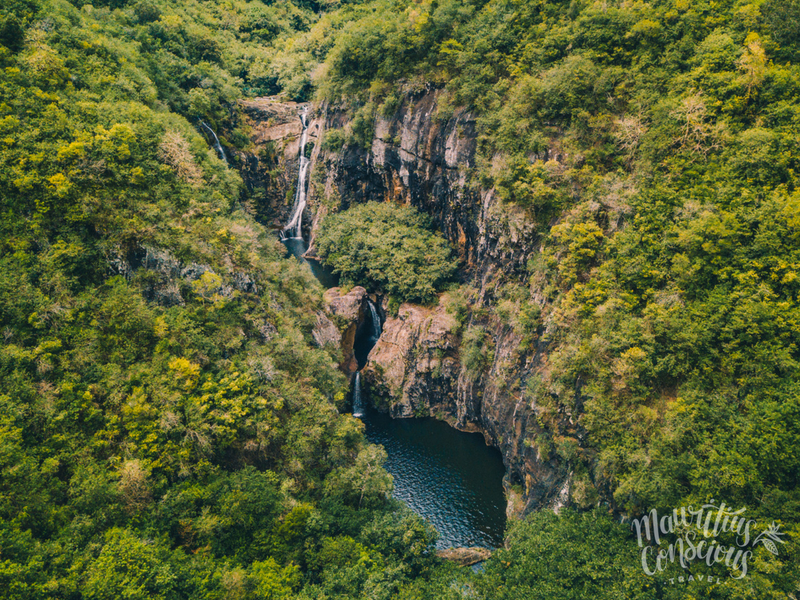 We were scheduled to meet our conscious partner in Henrietta at 8:30 am, just on time to start before the other operators arrive. We were a small group of 6 participants accompanied by 3 instructors; a reassuring start. Albane and Athanaz, our experienced guides, started to hand over swimsuits, harnesses, snap hooks, life jackets, helmets and floating bags. After a 15 minutes down-hill hike dressed for war, we reached the top of the first and tallest waterfall we would abseil that day.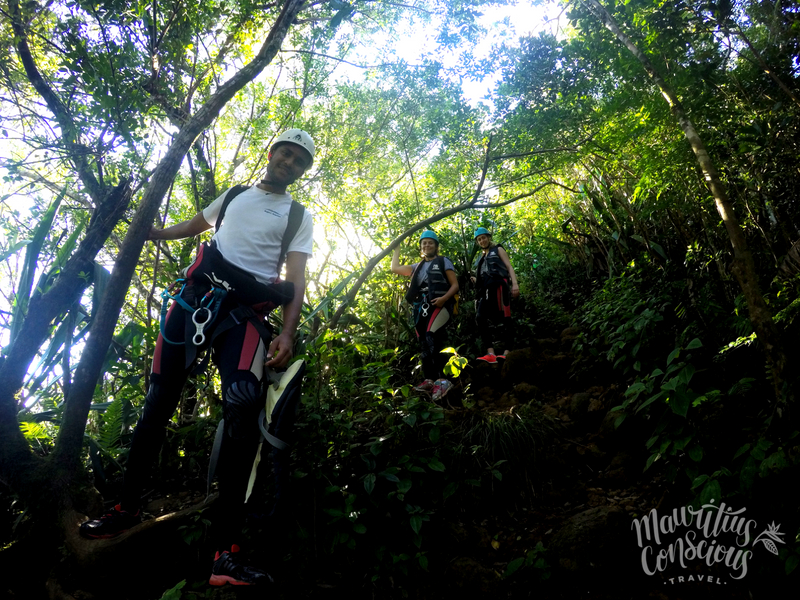 We were heading fast but safely into action. Athanaz and his two team members took us through a precise and crystal clear briefing, where we got to practice the moves, equipment and security measures until there was no room for doubt. I was relieved to learn that, even if the first and the second security measures failed, there would be a third (person) controlling the ropes and making sure we wouldn't end up like fried eggs on the rocks.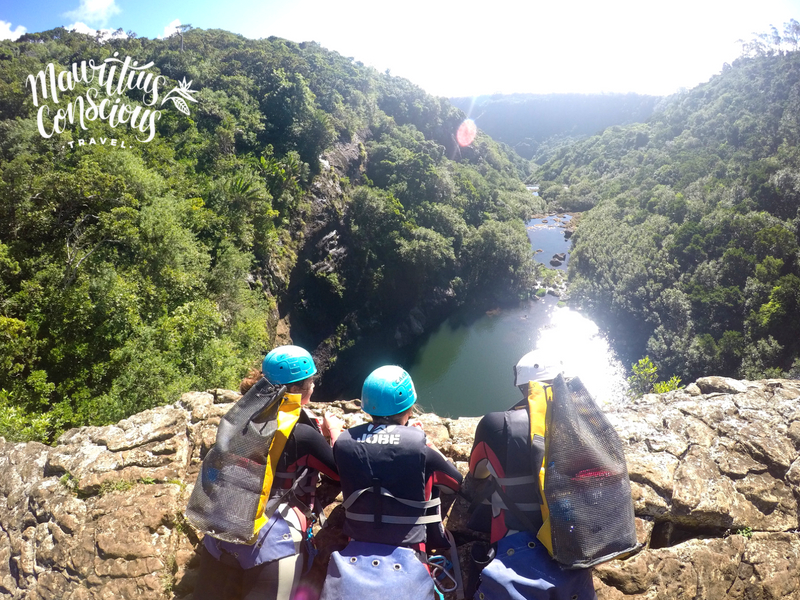 A few guinea pigs went down before me and, my turn came to get ready. I was excited and shaking, looking 45 meters down and hoping to reach the floor as smooth as it was possible. It was the first time I did abseiling and, frankly, I almost couldn't believe that I was to do most of the job by myself. I shook away the anxiety by focusing on the moves of my hands on the ropes. During the first section my feet were touching the wall of the waterfall and, out of a sudden, the rocks were too far for my reach, into the cave that forms behind the waterfall. With no support to ground me, I started to spin slowly around myself. I was suspended in the air, speechless, facing the open, majestic canyon – and already half way down. Between the adrenaline rush and a dizzy spell, stopping for a second to admire the view brought me back to myself. A feeling of sheer happiness flooded my body.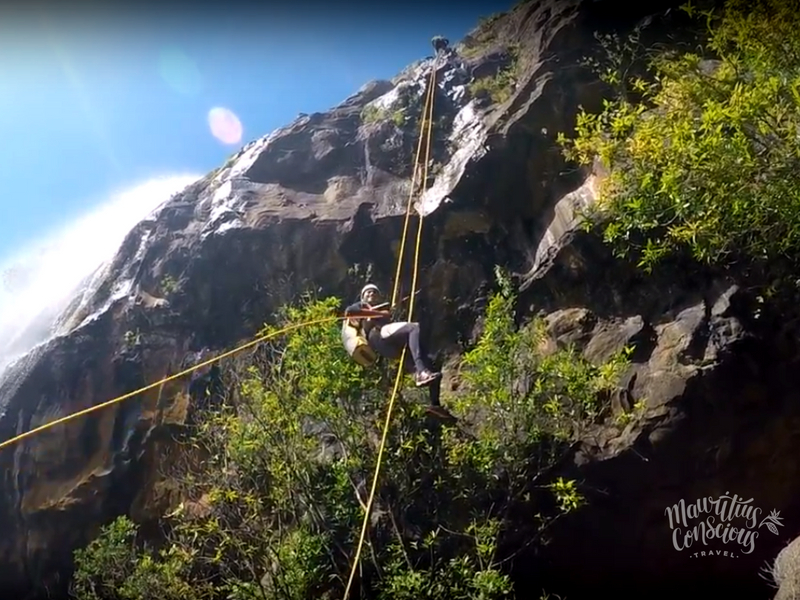 When my feet touched the ground, my abdominals were hurting and I was breathless but, above everything, I felt ready for the next abseil. We rewarded ourselves with a fresh shower under the waterfall and swam in the plunge pool to reach the next waterfall. For the second abseil, a 10 meters one, we were all at ease, laughing and enjoying the full experience.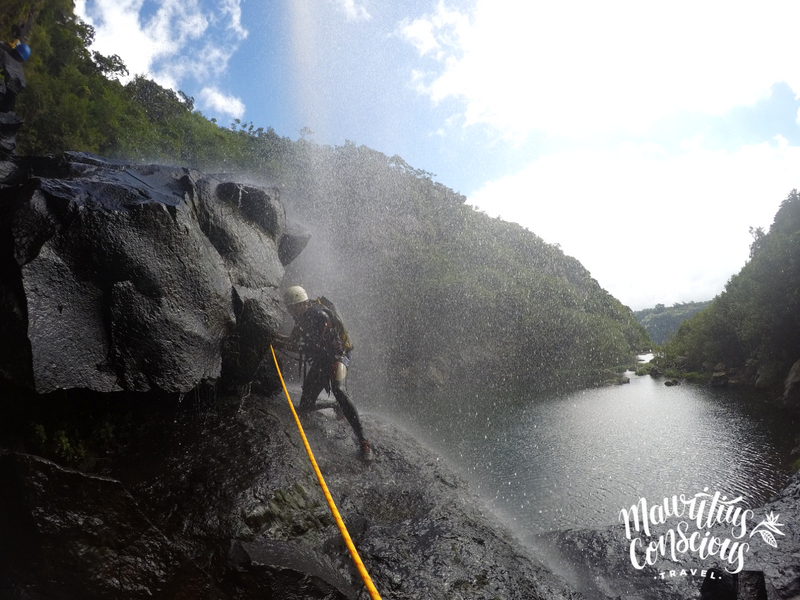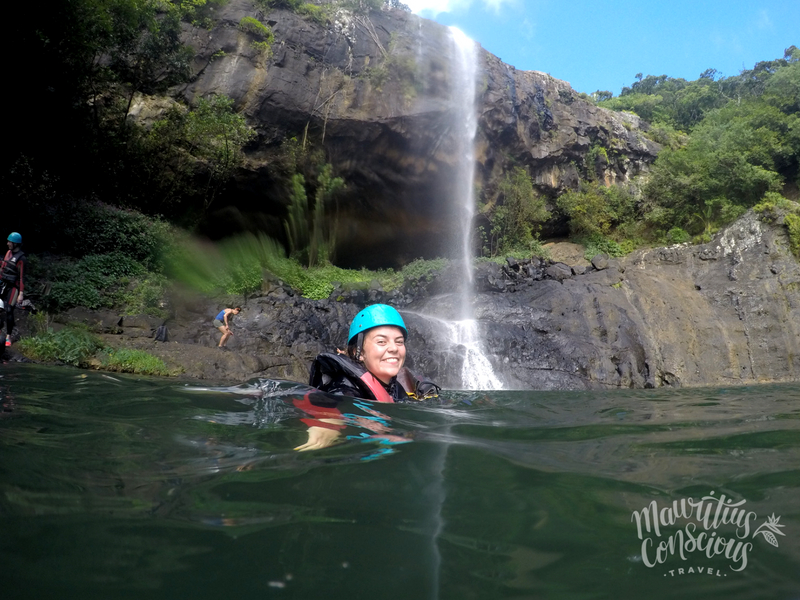 A final challenge was waiting for us: a 6 meters jump off the top of the third waterfall (which definitely sounds easier than it feels when you are up there). Don't listen too much to us but, the secret is to do it without thinking. Of course, you gotta be accompanied by professional guides who know how and where to do it before attempting a reckless jump. This last experience was the cherry on top of our adrenaline-full day; however, if heights are not your thing, you can always opt for a safe hike down the banks of the river.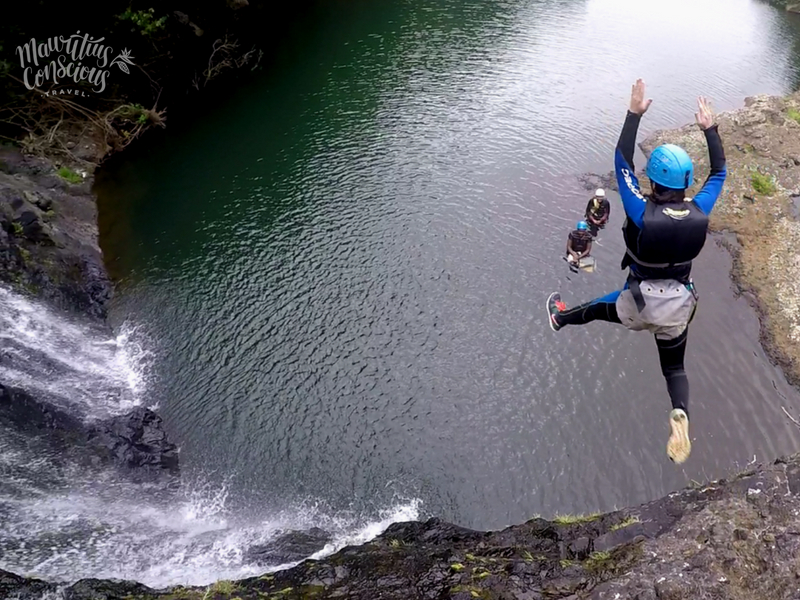 If you opt for the full-day canyoning experience, the next step would be to abseil the highest waterfall, that one of 55 meters. For us, it was the end of our half-day canyoning initiation. We finished our adventure with a 20 minutes steep hike back to the top, through a dense forest of Goyavier de Chine.
Adventure yourself into 7 Cascades!
We hook you up with local guides for your multi-level hikes or canyoning adventures.
Please follow and like us:
Comments
comments