Black River Gorges National Park
They invited us to a hike in the Gorges Natural Reserve. They said it was an intermediate level trail and, sure, 20 km should be fine! Lesson learnt: NEVER underestimate "intermediate" Mauritians and, no matter what, always go for it. The rewards go way further than words can express or pictures portray.
The Gorges National Park is the place to go freestyle. It hosts picnics of families, hiking travelers and skilled mountain bikers to please all tastes the same. You don't forcibly need a professional guide or any equipment to enjoy the best of it; you will find trails pretty well signalized that, eventually, should take you out of the woods. However, being accompanied by a local who knows the best spots and "how long more" it takes, is the best advice we could give you, especially if it's your first time or if otherwise you would go alone.
That time, an experienced friend guided us through an excursion that took us from Trois Bras Riviere Noir (the north-west entrance to the park) to Henrietta (a north-east exit) going through amazing view-points of the Natural Reserve. We did the Macchabbeé Trail and enjoyed the best of the Mauritian native forest, especially nice when we reached the kiosk that overlooked the west coast (Tamarin bay) with its views of a blue lagoon and lush vegetation rendered at our feet.
We were feeling young and reckless so we decided to take the Mare Longue Trail, a wise but hectic decision, my knees still recall. We went through a shaded tropical forest that surprisingly took us right at the edge of the Mare aux Joncs waterfall. The open view to the mountains, the vertigo to stand right at the edge, the refreshing river running at our feet all made it a truly mesmerizing experience.
From there onwards where only steep-down slopes in a beautiful (and humid) environment (bring mosquito repellent) until we reached the Mare Longue Lake and walked around its contour of red earth and green pine trees (very African!) to reach our exit.
Exploring the National Park made me admire Mauritius in ways I never imagined. It definitely open my eyes to what is there to discover and enjoy. If you already got to this island all the way from your corner of the world, don't let pass the opportunity to explore its mountains and views. The challenges carry even greater rewards, my knees still recall.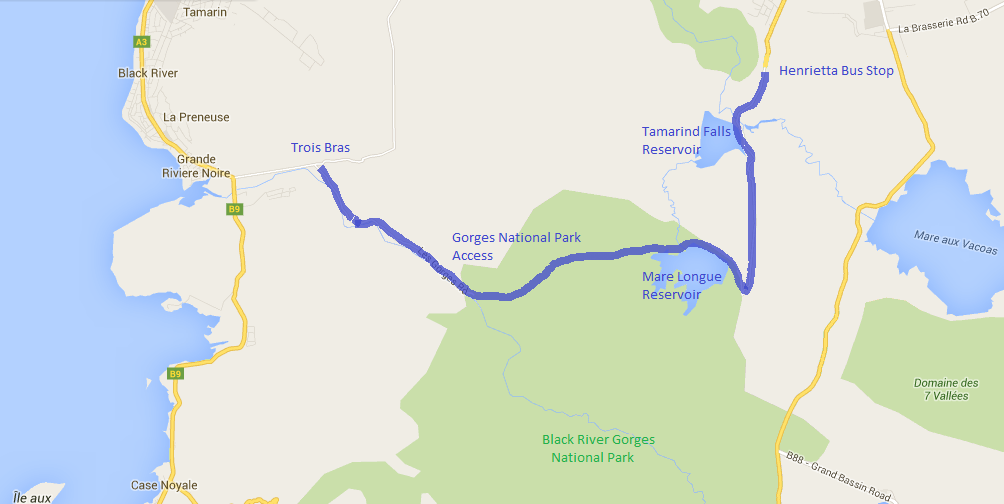 Safety
Black River Gorges can be exciting, perhaps more exciting than you planned! Please stay on designated paths to avoid failing over cliffs. Use caution when hiking, since even a twisted ankle can mean a painful return trip. You may be glad to know that no poisonous animals live in Mauritius.
Please follow and like us:
Comments
comments